What is permaculture?
Permaculture is a creative design process that is based on ethics and design principles. It guides us to mimic the patterns and relationships we can find in nature and can be applied to all aspects of human habitation, from agriculture to ecological building, from appropriate technology to education and even economics.
By adopting the ethics and applying these principles in our daily life we can make the transition from being dependent consumers to becoming responsible producers. This journey builds skills and resilience at home and in our local communities that will help us prepare for an uncertain future with less available energy.
The techniques and strategies used to apply these principles vary widely depending on the location, climatic conditions and resources that are available. The methods may differ, but the foundations to this holistic approach remain constant. By learning these principles you can acquire valuable thinking tools that help you become more resilient in an era of change.
Take a tour by clicking on the bike icon and discover examples of how permaculture can be applied and the philosophy behind the concept.

2014 Permaculture Calendar with moon planting guide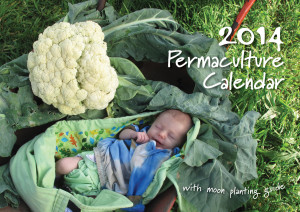 Get in tune with the rhythms of nature using daily icons and moon phase times to guide your planting, all while learning the principles of permaculture. Filled with inspirations images from around the world the Permaculture Calendar is Practical, Educational and Beautiful.
Available individually, as a twin pack with 10% off, a 4-pack with 25% off or 50% off when purchased in bulk lots of 10 or more.