"Don't think you are on the right track just because it's a well-beaten path"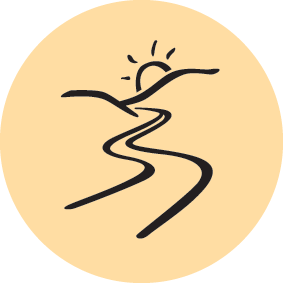 The interface between things is where the most interesting events take place. These are often the most valuable, diverse and productive elements in the system.
The icon of the sun coming over the horizon with a river in the foreground shows us a world composed of edges. The proverb "don't think you are on the right track just because its a well-beaten path" reminds us that the most popular is not necessarily the best approach.

Ranging around the edges
Members of the Pittwater Community Gardens group are planting hardy perennials around the edge of their netted garden. These plants will attract beneficial insects and create a microclimate that will enhance the productivity of what is inside. The chickens are free ranging on the margins, to help control insects and weeds while close to the safety of their home. This will provide them with a more diverse diet, which saves on feed costs while providing eggs, meat and fertiliser.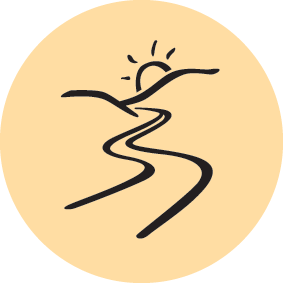 Principle 11: Use edges & value the marginal