Melliodora Publishing is proud to announce the launch of the eBook edition of 'Permaculture Pioneers'. The personal stories of 26 very different permaculturists give you an insight into the people side of permaculture, what makes them and the movement tick. In this new form you can use your favourite electronic gadget to read about the joys and pains experienced over the years as permaculture developed into the worldwide movement it is today. The eBook is available in both .ePub and .pdf format which can be read on just about all of the various mobile devices.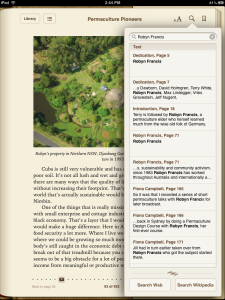 People who are interested in the history and evolution of permaculture will no doubt enjoy the added features this edition offers. The black and white photos of the original printed book come alive with colour.
You'll love being able to quickly click around the book to selected pages, information and authors. The linked contents page takes you to the chapter of your choosing. Being able to link straight to websites from the reference section (if you're connected) means that you can follow an idea as far as you like, and not lose your place in the book.
Probably the most useful function of the electronic format is that the content is searchable, giving you the ability to easily find exactly what you are looking for.
The ePub format is best suited to mobile devices, as the text and images are dynamic – just like a website. The book can be read on tablets or most modern 'smart' phones using an App on your device.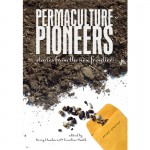 You may find that you would prefer the layout of the original book, using the PDF format with it's quirky fonts, which also includes links when used with Acrobat Reader
Our FAQ page can answer just about all your questions about downloads and if you purchase the eBook through us and you will receive both the .ePub and .PDF formats at no extra cost.