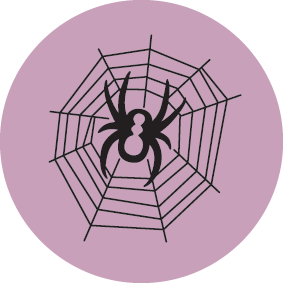 "Can't see the forest for the trees"
By stepping back, we can observe patterns in nature and society. These can form the backbone of our designs, with the details filled in as we go.
Every spider's web is unique to its situation, yet the general pattern of radial spokes and spiral rings is universal. The proverb "can't see the forest for the trees" reminds us that the closer we get to something, the more we are distracted from the big picture.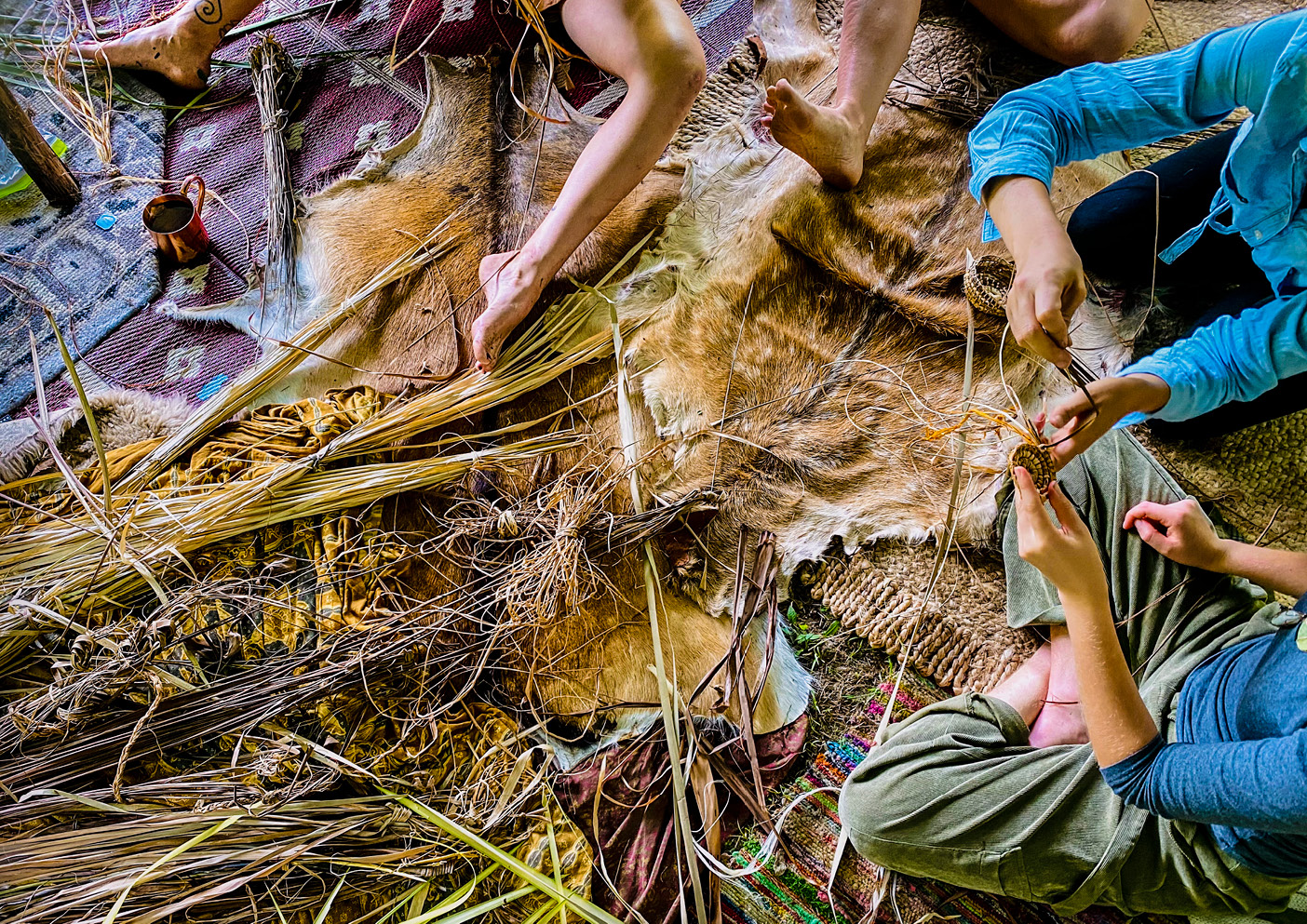 Weaving for use, heritage, healing and connection
At this women's rewilding weekend, learning to weave with natural fibres is a small part of the macro pattern of recreating contemporary culture based on traditional cultures, reigniting sacred ritual and connecting with people and place. The detail is in the weaving, the stories/songs shared, skills learned, the healing and connections made.
Photo by Sandi Pointner, Wild Beings: rewilding event on Darkinjung Country, NSW Central Coast, Australia.
---
Submit your examples on Instagram #designfrompatternstodetails
Nominate and submit your favourites for the next Permaculture Calendar with #permaculturecalendar
---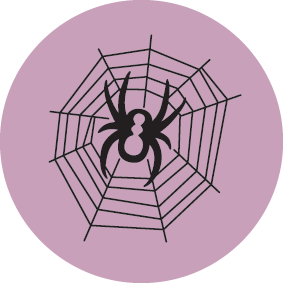 Design from patterns to details examples from previous Permaculture Calendars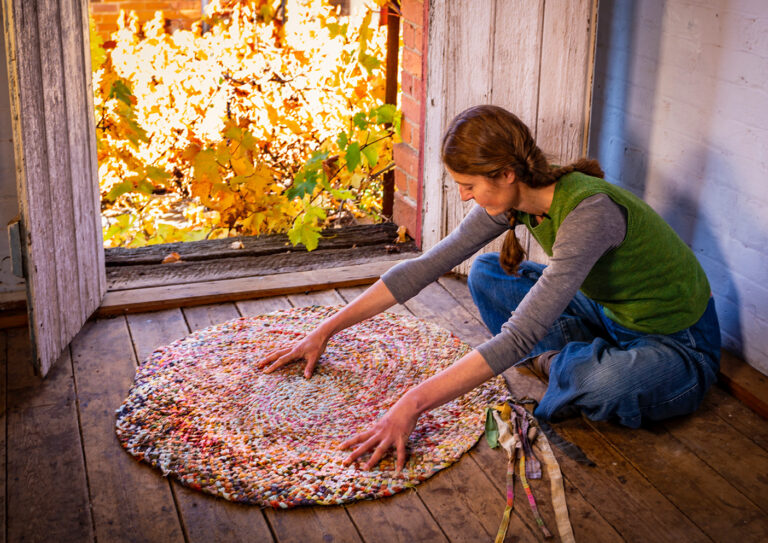 Widening circles
This braided rag rug technique weaves worn out fabric in a spiral pattern, joining the growing braid to itself as the rug grows. The rug takes its cue from the land's palette, including only rags in the colours of Arrente country, central Australia, where the weaving of this rug began. Ilka thinks of the cyclic patterns of night and day, of action and rest. "Like mending, braiding repairs me, and it weaves me back into someone useful when I feel frayed and spent."
Photo by Leonie Van Eyk shows Ilka White weaving in Castlemaine, Victoria, Australia.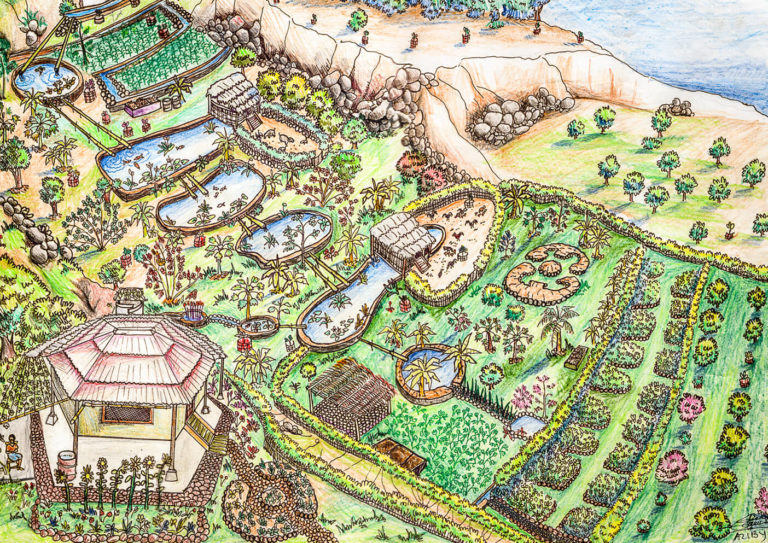 Working with flow
This illustration from the Tropical Permaculture Guidebook aims to inspire creativity, integration and the maximum use and re-use of local resources, especially water. Aquaculture systems can be very productive in their own right and once the patterns are in place the possibilities for integration with other systems are endless. They are also fantastic for recycling waste into valuable resources, both for the aquaculture systems and for the surrounding land and animals.
Illustration by Gibrael 'Aziby' Dias Soares Carocho in Dili, Timor-Leste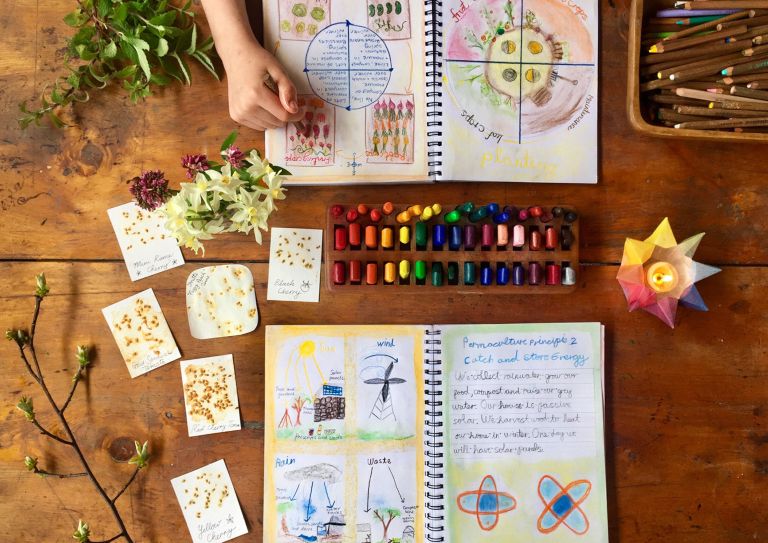 Waldorf and permaculture inspired homeschooling
In this form of education the children first live the patterns of home food gardening and self-reliant, low impact living. As they grow older they can start to articulate these patterns that they are already familiar with, through their bookwork as above. The details of how to apply these patterns in practice should flow fairly easily from this foundation. Lived experience, nature based learning, clear design principles and coherent parental modelling is a powerful combination..
Photo by Heidi Smark at Twig and Berry Farm in Lucaston, Tasmania, Australia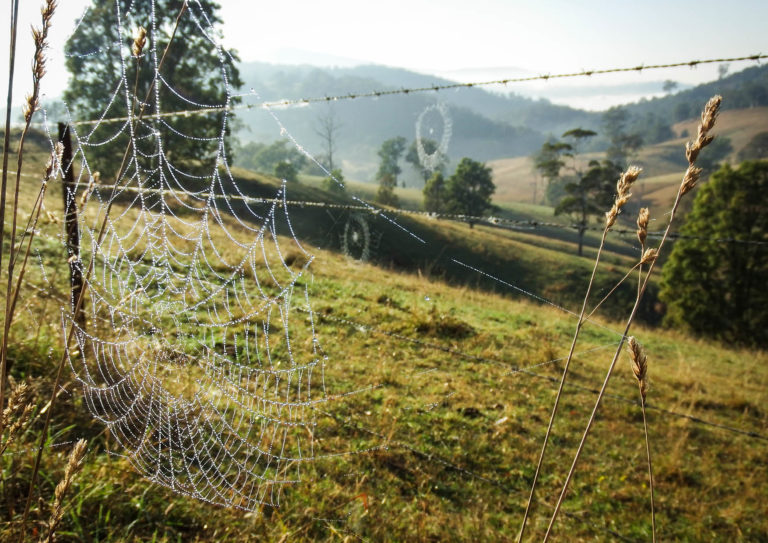 Web designer
A spider weaves a web, working from the main structural components toward the finer insect catching details. First the strongest strands take advantage of major supports that are available in the area. Then the radial arms can be woven followed by the finessed details. The pattern of the web is still clear despite its adaption to place. Like the spider, design your landscape and life to best integrate with and accommodate the major forces and opportunities. The details naturally follow.
Photo taken in Brogo, New South Wales, Australia by Richard Telford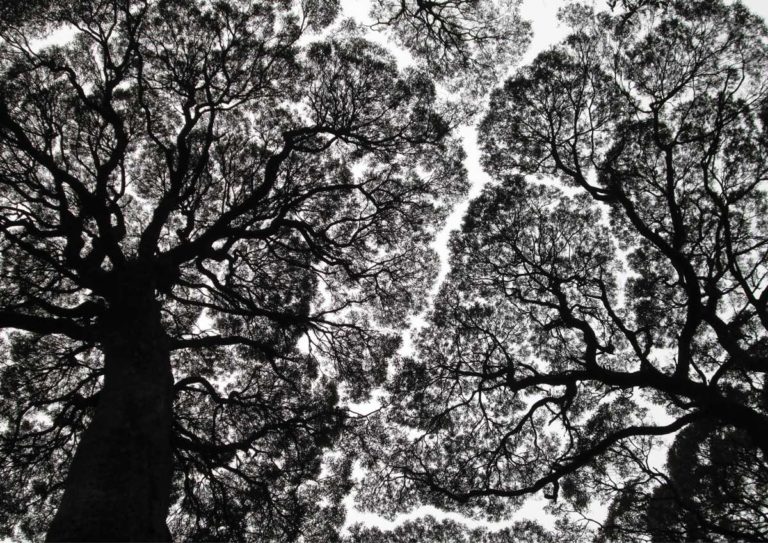 Exploring opportunity
'Looking up at the canopy, it appeared as if the trees were talking to each other.' These Blackwoods (Acacia melanoxylon), in southern Tasmania, have become giants by exploring opportunity. The main structure of the trees is long established. The canopy incrementally redesigns itself as old branches die and new spaces become available, without infringing on their neighbours. Forest research has found that many tree species collaborate, trading nutrients via fungal networks.
Photo taken by Richard Telford at Peoples Park in Strahan, Tasmania, Australia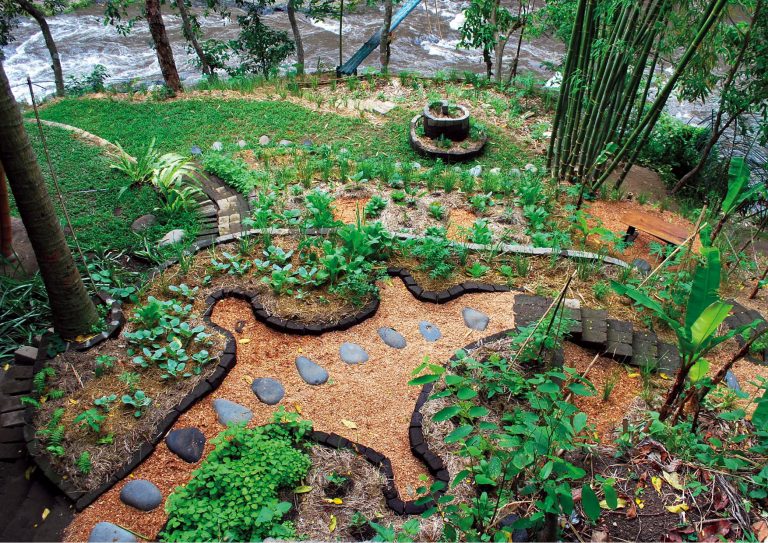 Creating a picturesque garden
Mark Garrett designed this attractive food garden on a small steep sloping block at the world renowned Green Village, part of the Green School in Bali. The garden complements the organic form and aesthetics of the buildings that surround it. The keyhole beds allow for all plants to be within easy reach, while the winding path meanders across a series of terraces to access the river crossing below. Beauty and function blend to create an inviting space to work and relax.
Photo taken in Bali by Mark Garrett.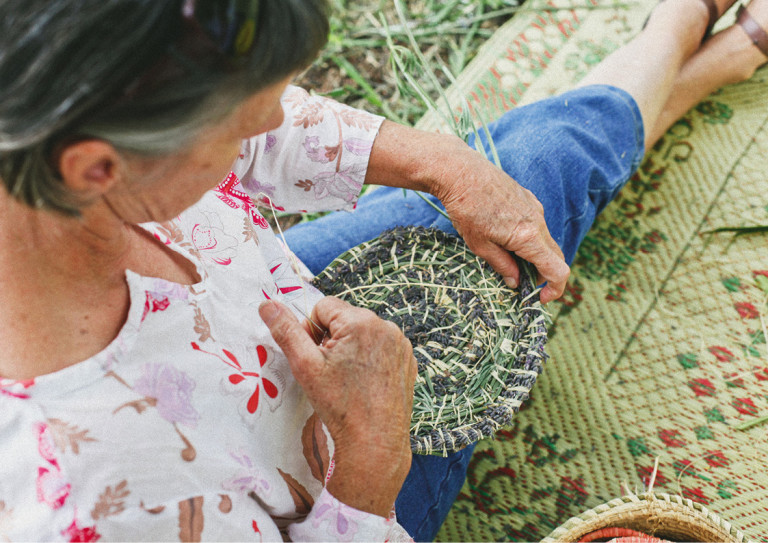 Bringing back skills of old
At the Festival of Forgotten Skills rhythmic patterns are common, with rope making, spranging (predates knitting), scything, and candle making among others. The art of weaving with plants reproduces patterns found in nature to create useful and beautiful mats, baskets and decorations. The basic patterns of each craft are easily learned. The detail of the work is an expression of individual skill and creativity. The event brings young and old together for a day of sharing.
Photo taken at Fair Harvest Permaculture in Western Australia by Michelle Troop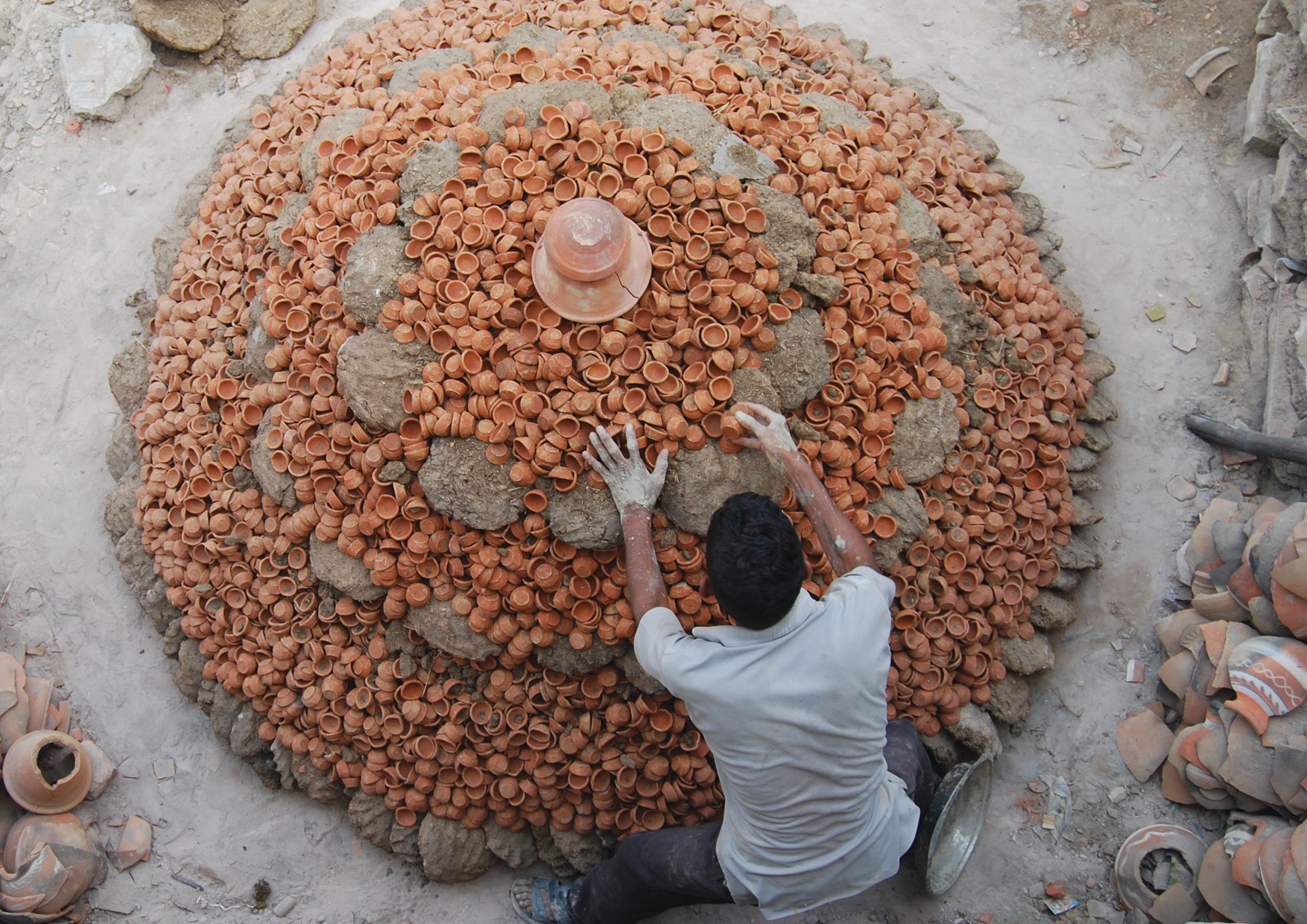 Firing for the Festival of Light
Poppu Ram carefully stacks small lamps to be used for Diwali one of the most important cultural events in the Hindu year. A kiln is created by building up layers of lamps and cow dung as fuel and then covered broken pottery shards the keep the heat in. Hot coals are then dropped in through the chimney to light fuel at the base, it takes about three hours to complete the firing. The next morning the kiln is dismantled and the lamps are taken to markets on the back of push bike carts.
Photo taken near Delhi, India and contributed by Sandra Bowkett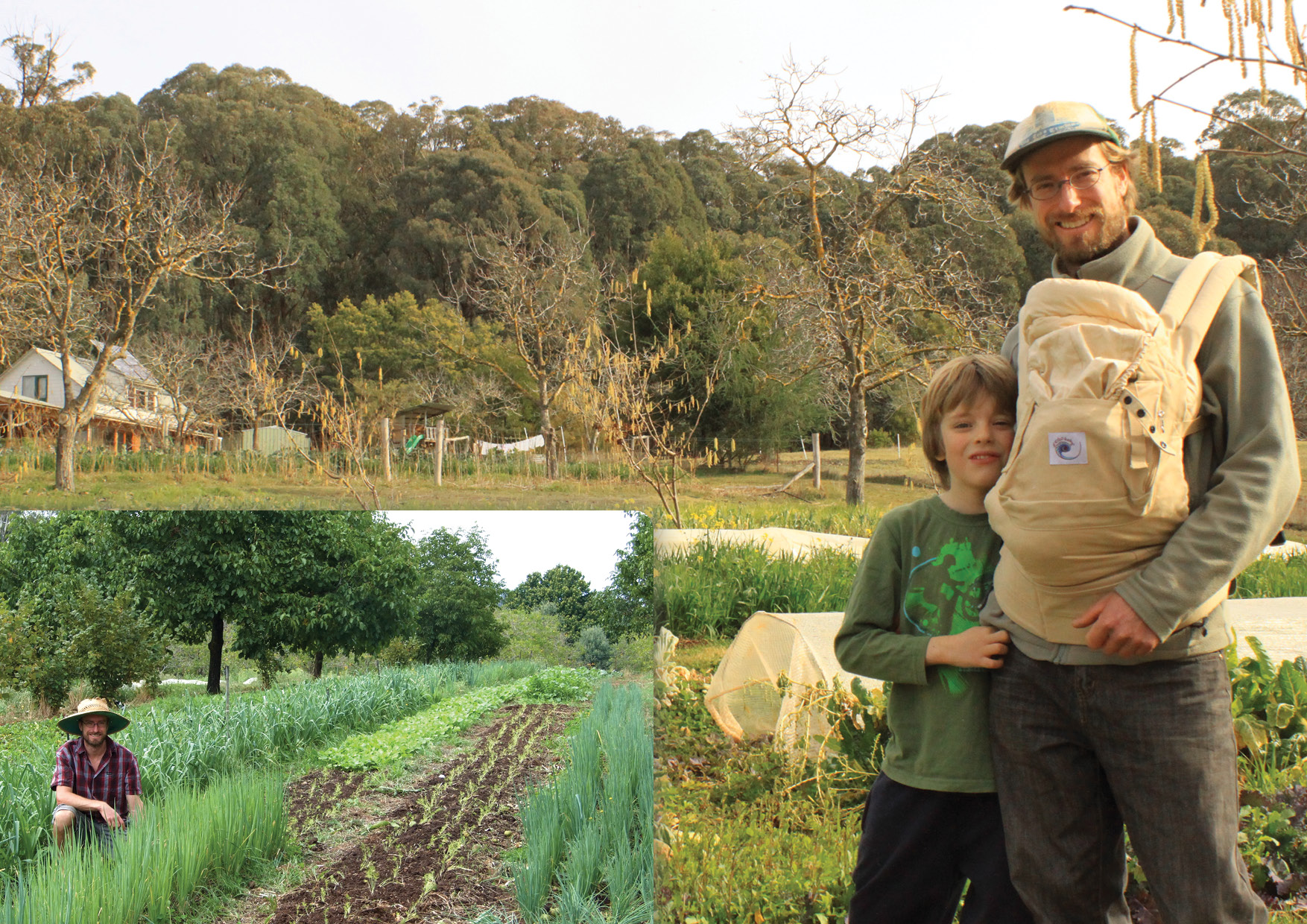 Transforming a monoculture into a polyculture
"I wanted to build a lifestyle that balanced my working life with my family life. Using two acres of our family walnut orchard we gradually transformed it into a highly productive organic market garden that also produces hazelnuts and raspberries. We use highly detailed planting and harvesting schedules, crop rotation, green manures and heaps of compost to produce an abundance of healthy food for local 'vegie box scheme' families, good restaurants and farmers' market." – Steve Oke
Photo contributed by Richard Telford.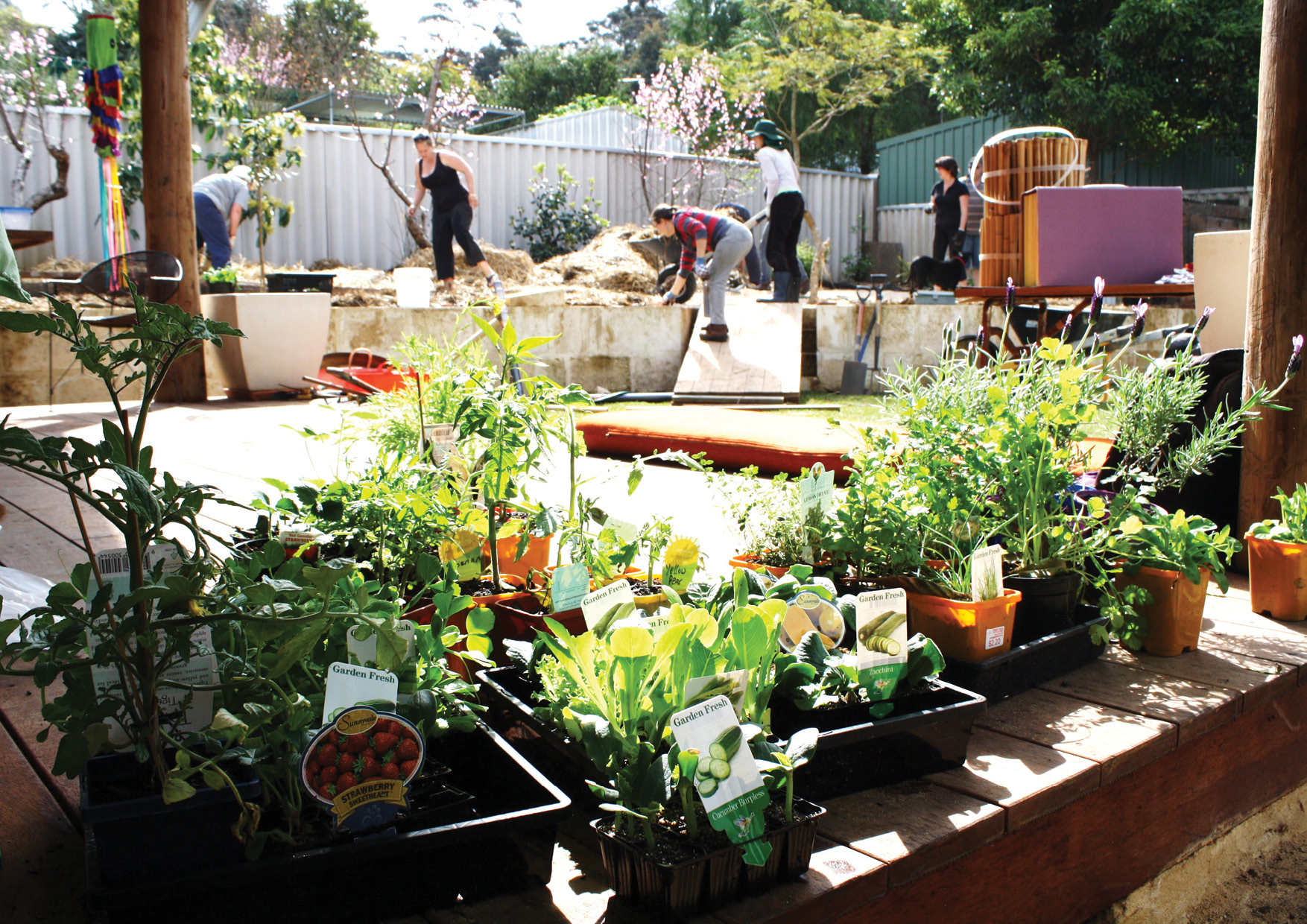 Permablitzing the urban environment
Starting with a group of people wanting action, positive change and local food, the permablitz moves to the design stage where the family and the designer get together and look at the patterns of movement, eating and working habits. We then look at environmental patterns and where their home is situated in the community and landscape. Once the design is complete we get down to specifics, even to the details of how many of each seedling will be planted.
Photo contributed by Dorothee Perez.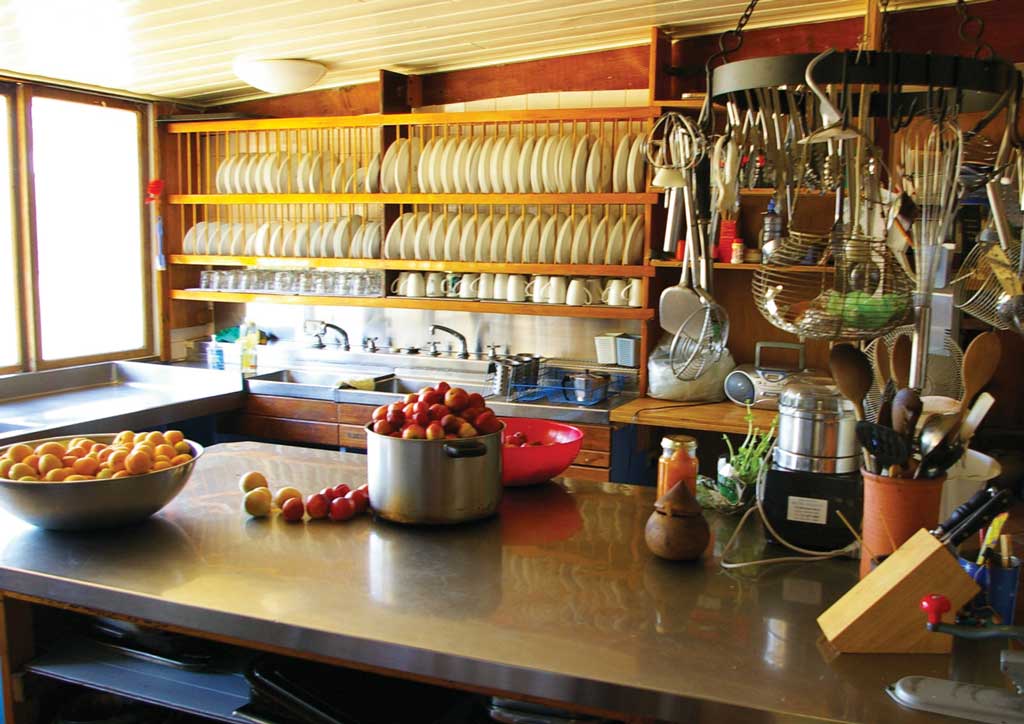 A shared kitchen
These dishes drain where they are stored above the sink, making large volume hand dish washing an efficient one person task. Good design has saved tens of thousands of hours of work and thousands of tea towel washes over the thirty year life of this catering kitchen. Everything is visible and accessible for the many visitors who use this kitchen. Simple and intelligent zoning choices save space and time.
Photo taken at 'Commonground' in central Victoria, Australia and contributed by David Arnold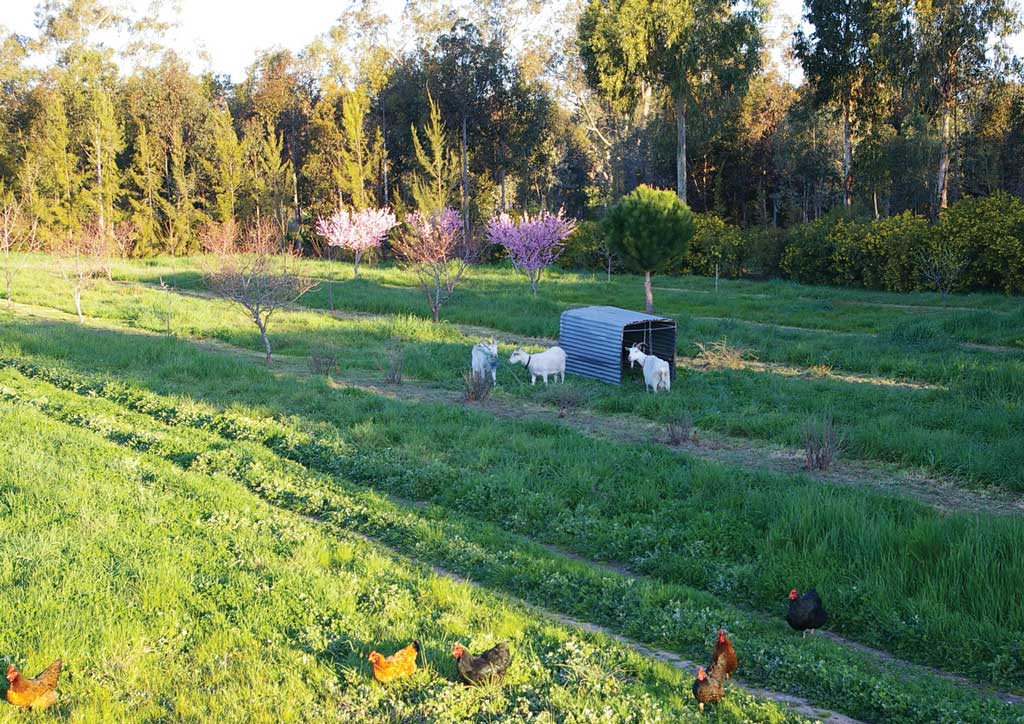 A paddock becomes a permaculture
"I came here to a bare paddock, adjoining Violet Town. The land form gave me a pattern to follow. I put grassy woodland on the floodplain, and fruit, nuts and olives in pasture on the higher land. Mixed tree and shrub habitat plantings shelter the tree crops. I identified the existing landscape patterns, and the patterns that I wanted to apply. Then the design for this land fell into place."
Photo and text contributed by David Arnold, taken at 'Murrnong' in Australia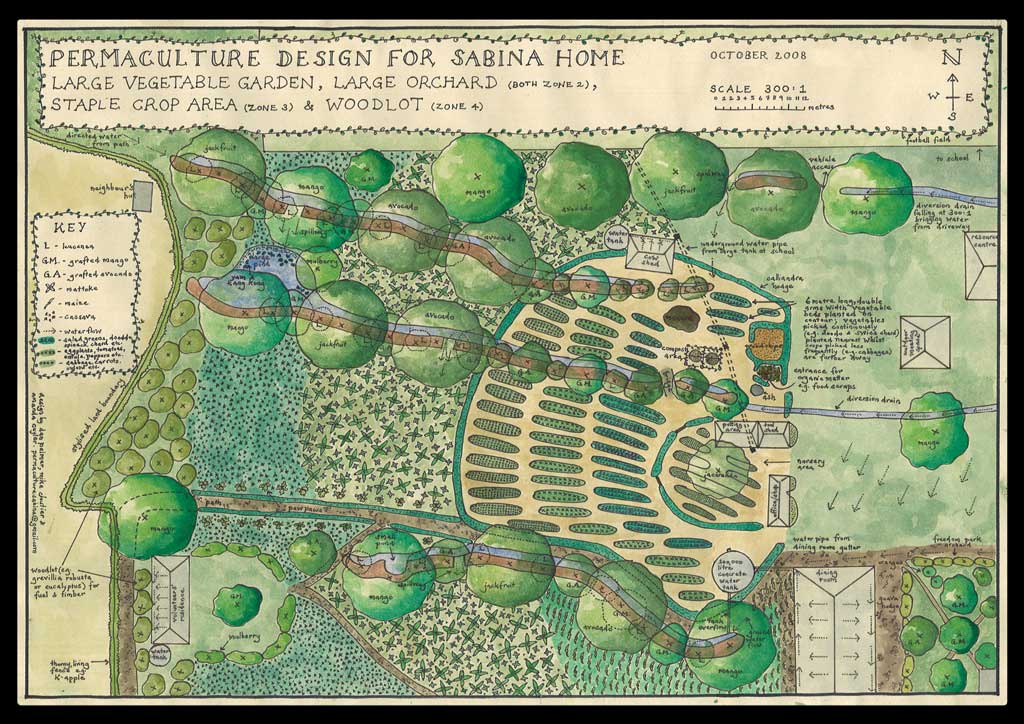 Landscape to help 300 students grow their own food
This is part of a design based on classic permaculture patterns. Note the zoning pattern – elements most visited are kept nearest; catchment pattern – water is spread then absorbed in productive soil; and relationship pattern – food trees are planted with support trees, water and manure are near compost. Their daily chores and agriculture class work include helping to build and tend the gardens which will feed them.
Text by Dan Palmer, Sabina Home & Boarding School in Uganda plan designed by Amanda Cuyler.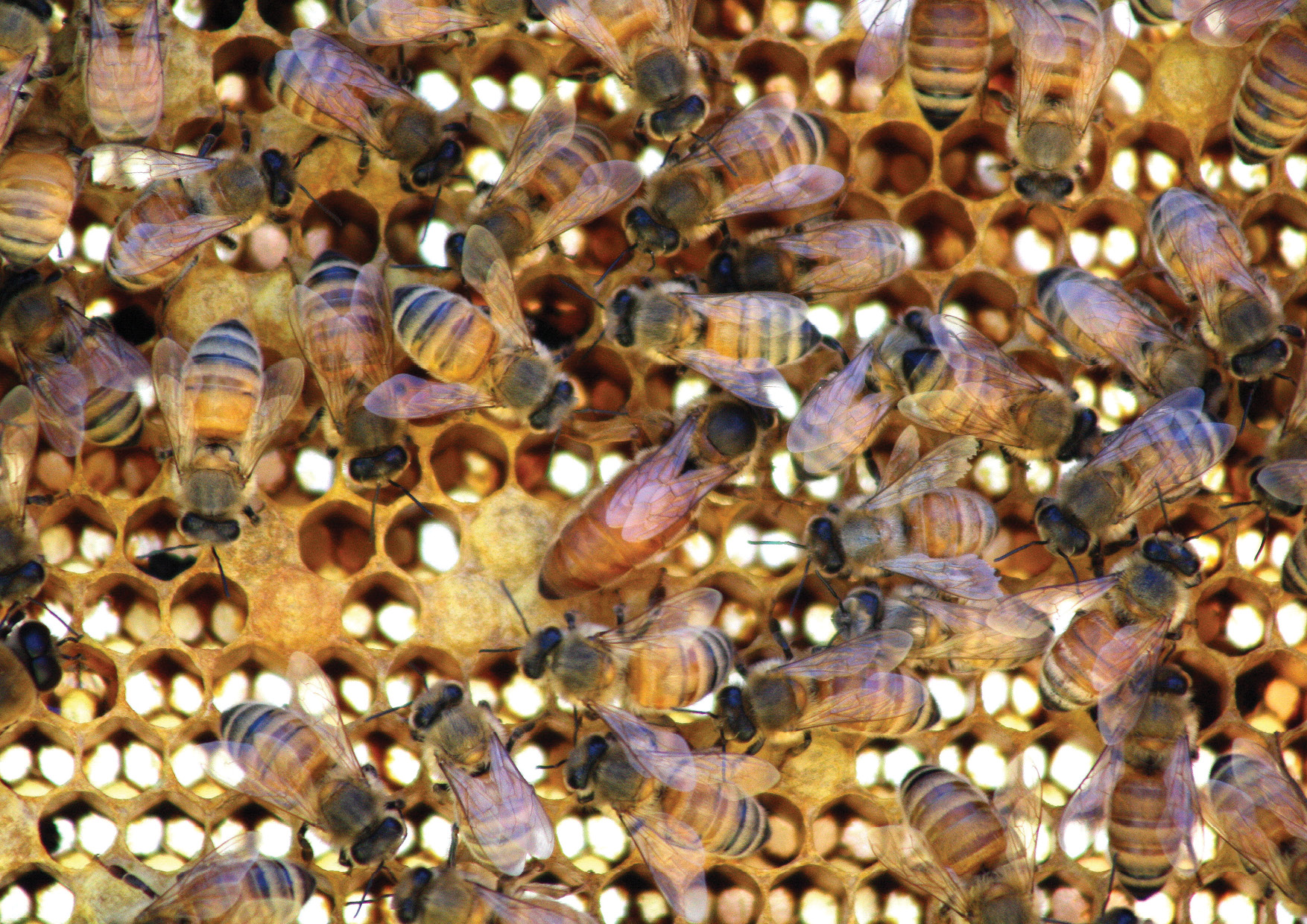 Mass co-operation, individual self-determination
Here drones and the queen are tending the brood. Bees need some flexibility to determine for themselves what proportion of drone cells to worker cells their hive requires. They also prefer to expand their brood-nest as an integrated whole, and to have space at the edge of the brood-nest to put incoming nectar. Bee-friendly hive management aims to work with these patterns, and allow the bees to sort out the details.
Photograph by Emma Malfroy