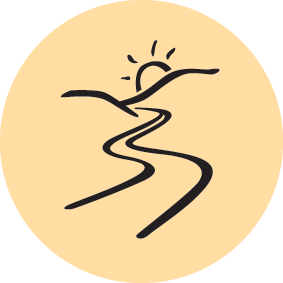 "Don't think you are on the right track just because it's a well-beaten path"
The interface between things is where the most interesting events take place. These are often the most valuable, diverse and productive elements in the system.
The icon of the sun coming over the horizon with a river in the foreground shows us a world composed of edges. The proverb "don't think you are on the right track just because its a well-beaten path" reminds us that the most popular is not necessarily the best approach.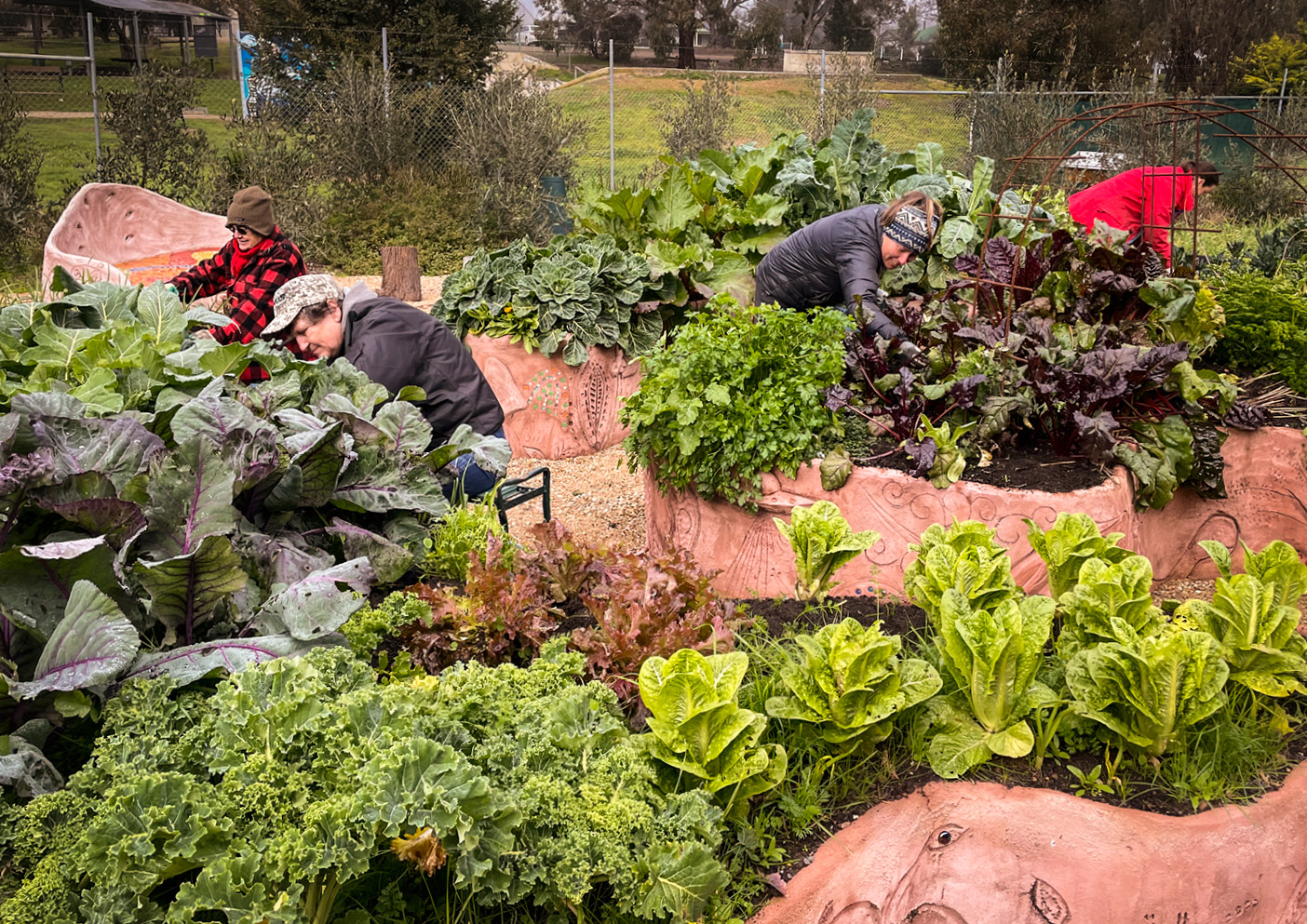 Feed it forward
Tending to the Embassy of Ideas garden behind the Alexandra main street. This inclusive self-funded community space provides a place where people are valued and community is nurtured. The freeform arty ferro-cement garden beds were made by volunteers and grow food to share. A monthly crop swap, garden working bees, seed library, food waste composting, goodwill garlic social enterprise and a community passata day all help to cultivate community connections and belonging.
Photo by Sasha Barrow, Embassy of Ideas on Taungurung Country, Alexandra, Victoria, Australia.
---
Submit your examples on Instagram #useedgesandvaluethemarginal
Nominate and submit your favourites for the next Permaculture Calendar with #permaculturecalendar
---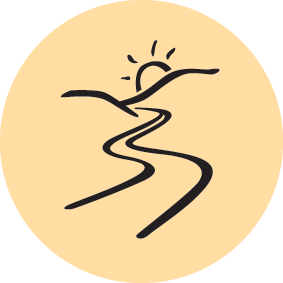 Use edges & value the marginal examples from previous Permaculture Calendars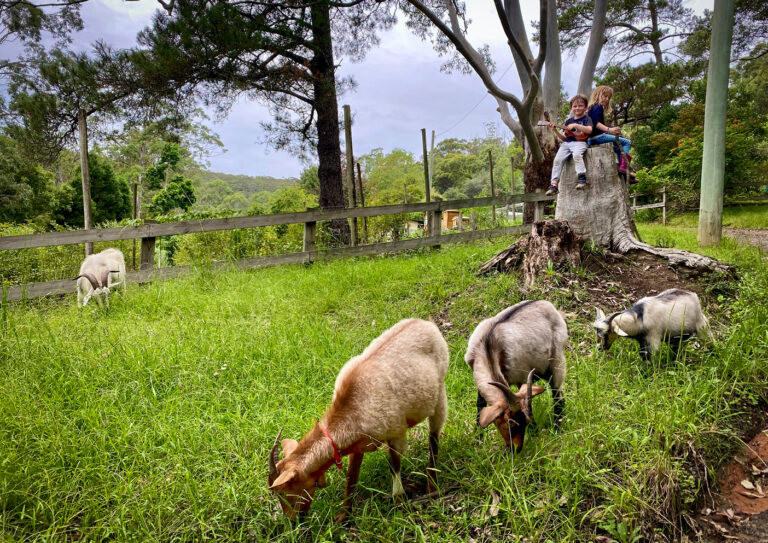 In between moments, in between spaces
Ava and Torsten love hanging out with their goats. Although seemingly idle, these are rich moments before and after school – learning to be responsible for other living things, developing observational skills, and allowing time to connect with themselves, each other and the natural world. Grazing on the verge gives the goats more feed through the year, and the humans a much better opportunity to connect with neighbours than over the engine of a noisy mower!
Photo taken by Sandi Pointner at Eagle Ridge Farm, Fountaindale, NSW, Australia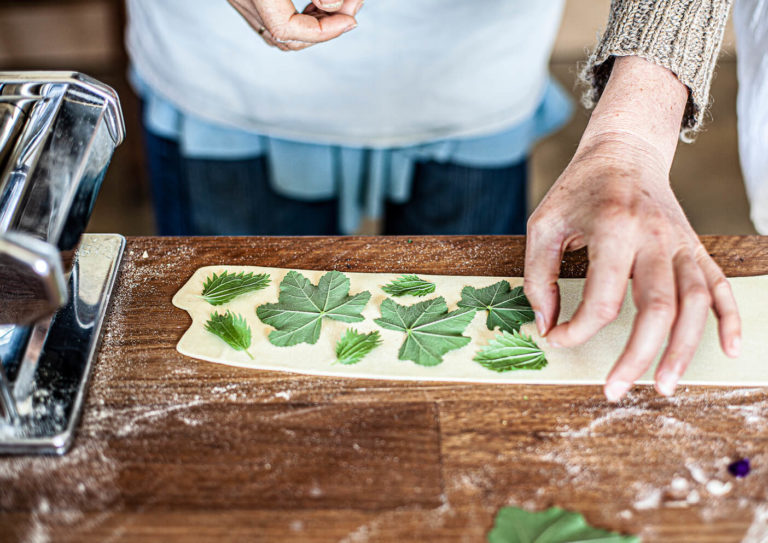 The flavour is at the edge
Pasta is all about edge. From a ball of flour, eggs and/or water, the careful rolling and cutting of a firm dough hugely increases the surface edge to carry the sauce. Here Ilka is laying out leaves of the nutritious edge dwelling volunteer plants, nettle and mallow, to be rolled into pasta sheets, making beautiful print patterns. Photographer Mara says 'if your heart is strong enough and you are floating still, maybe making pasta will act as a meditative pill'.
Photo of Ilka White taken by Mara Ripani at ORTO Farm in Blampied, Victoria, Australia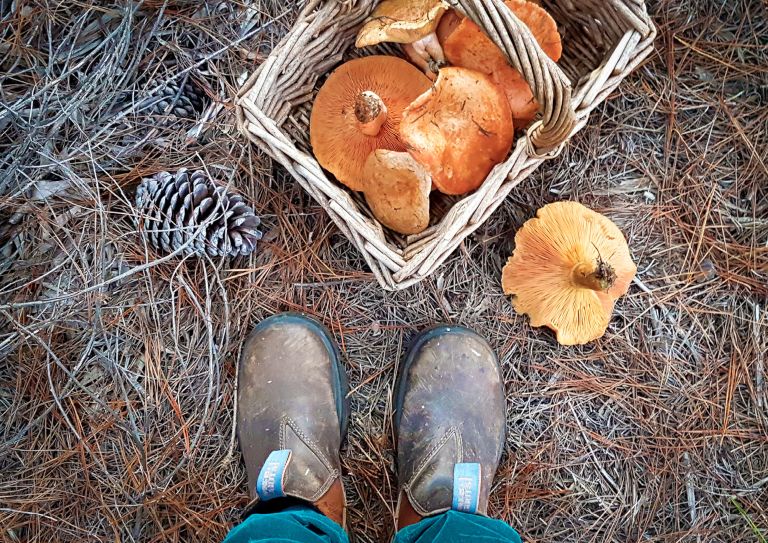 Pining for Saffron Milk Caps
Amber looks forward to the few weeks in the year when she can harvest these Lactarius deliciosus mushrooms from the industrial pine plantation near her home. This fungi grows under conifers on acidic soil and forms a beneficial mycorrhizal relationship with its host tree, in this case Pinus radiata. This highly esteemed mushroom is often enjoyed soon after picking. Just brush them off and fry in olive oil with some garlic – topped with fresh parsley and more olive oil.
Photo by Amber Croft taken in Stanley, Victoria, Australia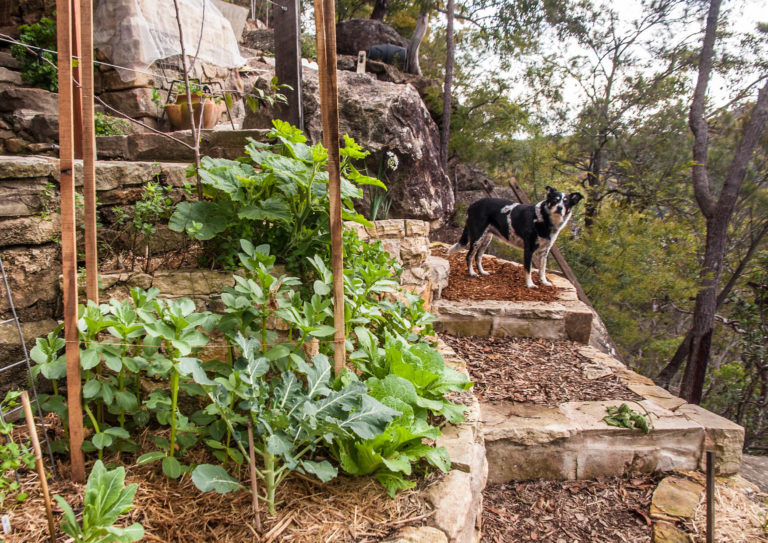 Clifftop gardening
The sandstone cliff tops of Sydney's northern suburbs is not a place where you would expect to see lush vegetables growing. The abundant sandstone on site is used here to build terraced beds that take advantage of natural pockets in the escarpment, helping to retain moisture and reduce the fire hazard. Positioned close to the kitchen, on the pathway to the chook yard encourages close monitoring and management and gives some deterrence to wildlife. The dog has a job.
Photo by David Holmgren from his book RetroSuburbia- the downshifer's guide to a resilient future. Melliodora Publishing 2018.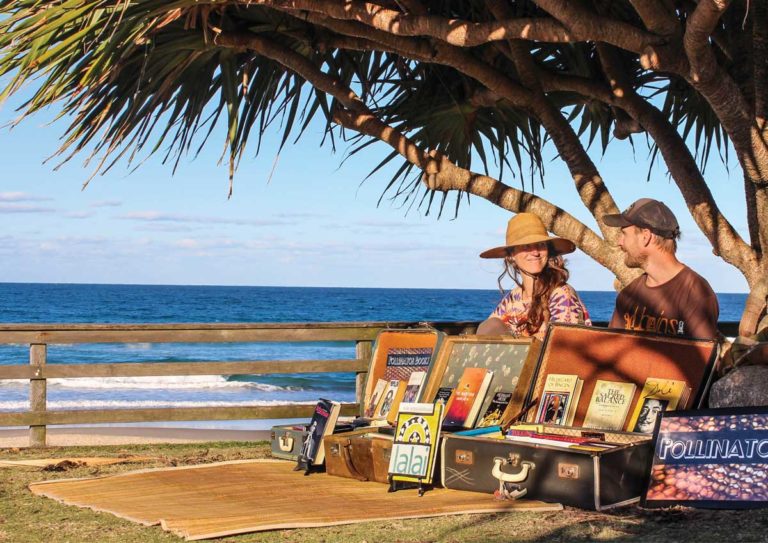 Pollinator books
Erin and Marcel are treasure hunters. They find second hand books that they value, pollinating thoughts and ideas from great story-tellers to a new audience. From social & environmental justice, biographies about people that have made change happen, to the esoteric and classics that alter the way people see the world and themselves in it. You'll find them popping up their shop with suitcase loads of books at festivals, markets and gigs or on the way to the beach.
'Pollinator books' photo supplied by Erin Young.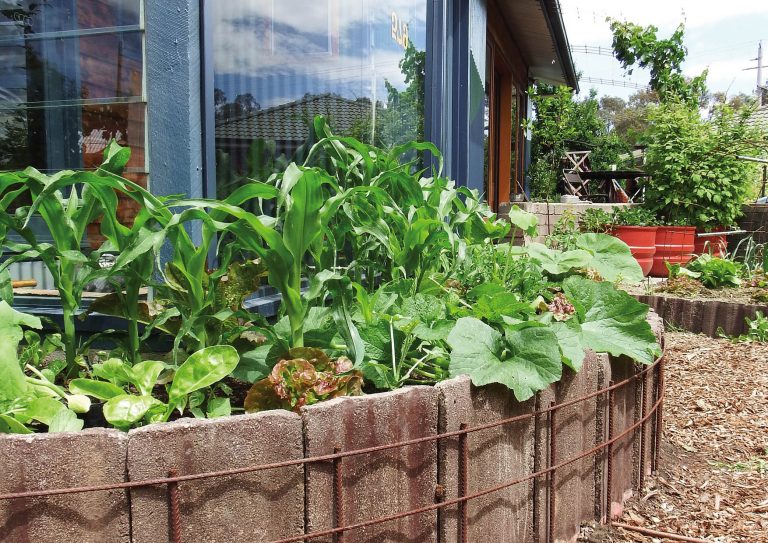 Rebuilding with what you have
Abdallah House is an example of radical retrofitting, by rebuilding using materials from the original poorly built house, along with reused and locally sourced new materials. Reclaimed roof tiles were laid behind a mesh off-cut that has been set into the ground, forming a curved raised garden bed in front of the greenhouse. The corn growing in the bed and the grape vines in the background are planted at the edges of the house to give shade during summer.
'Rebuilding with what you have' photo by Richard Telford at Abdallah House in Seymour, Australia. It features as a case study in the book RetroSuburbia.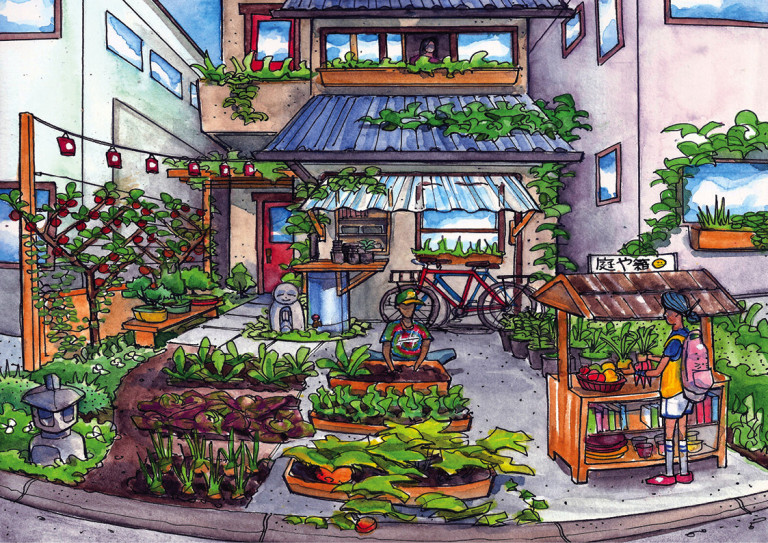 Transforming the urban edge
The urban environment is full of edges, each with it's own unique potential for transformation. This drawing shares some ideas for how to make productive use of a front yard in Tokyo. Espaliered fruit trees, container compost and garden beds, balcony gardens, vines to take advantage of roof space, a small water tank with potting bench above, propagating area, bike stand, herb gardens, vegetable beds and a 'gift station' for sharing excess produce, used books and crockery.
Illustration by Paul Kearsley from the Urban Permaculture Guide 始まる新しい生き方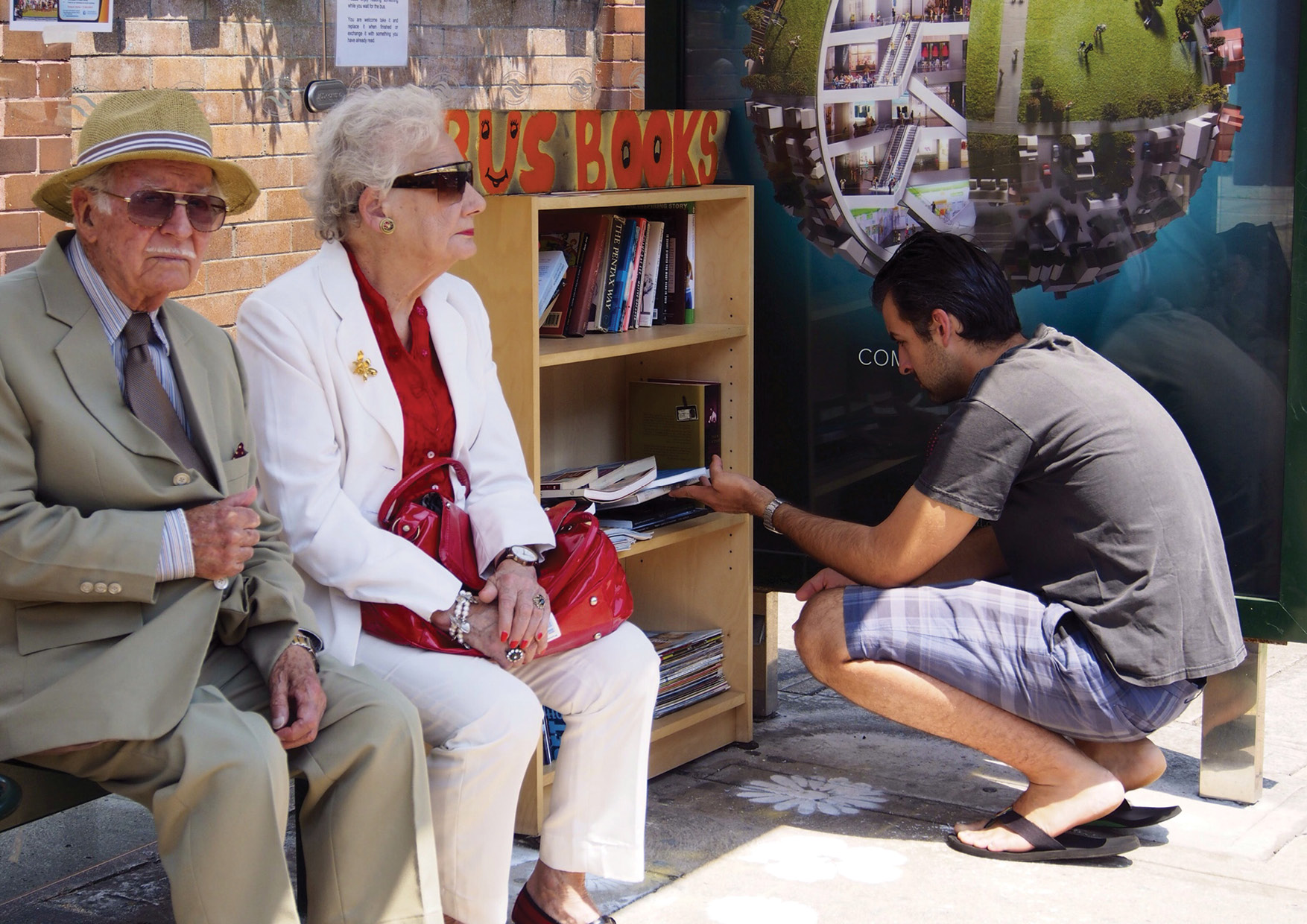 The Bus Stop Library
This library was set up as part of the Clovelly Road Better Block initiative where the local community is aiming to make the street greener, safer, more human and liveable. This bus stop invites travellers to engage with the space at the beginning and end of a journey. The sign above the shelf reads "Please enjoy reading something while you wait for the bus. You are welcome to take it and replace it when finished or exchange it with something you have already read."
Photo contributed by Russ Grayson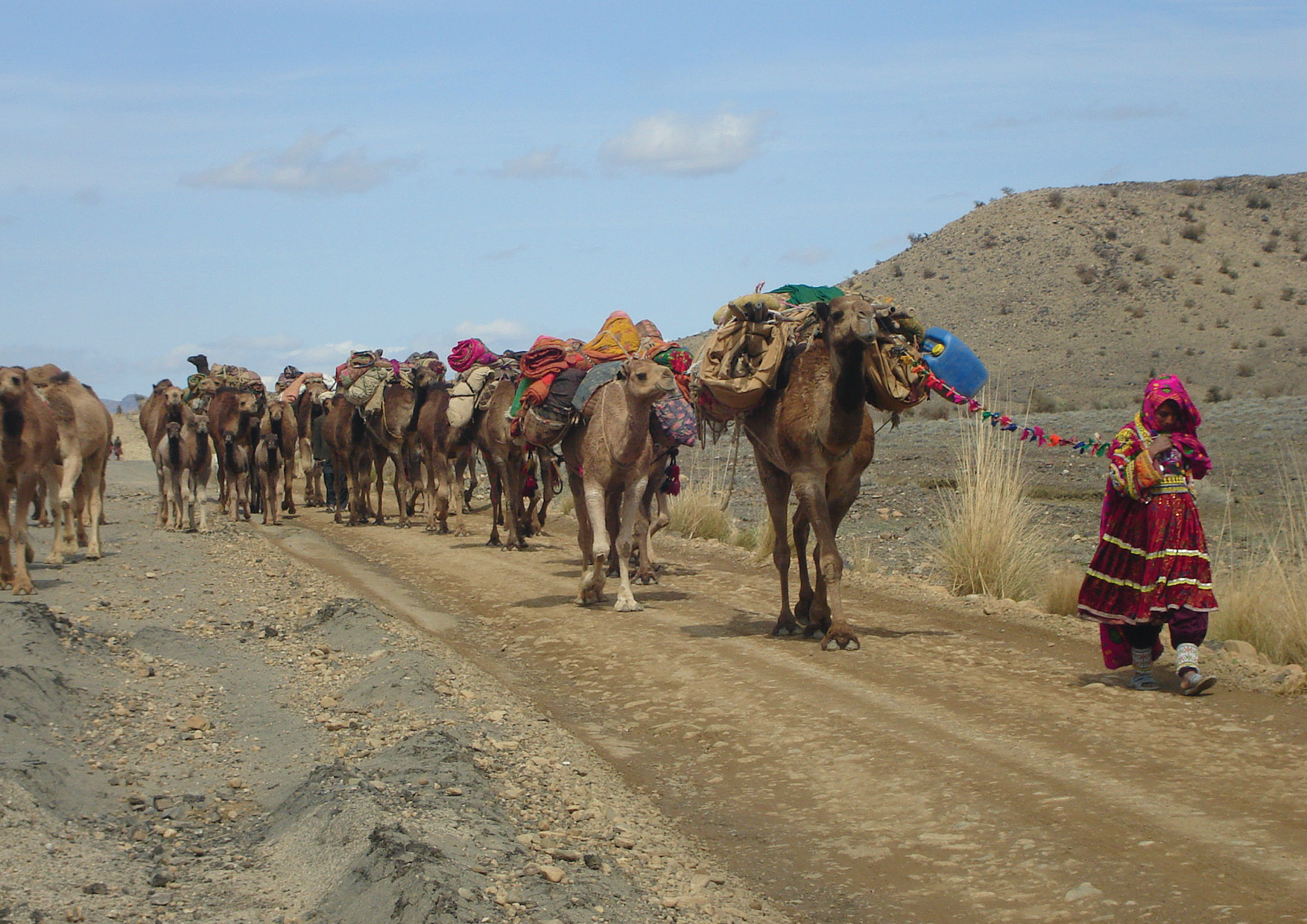 Nomadic living in a harsh environment
Kochi nomads are on the move from the Musakhail district of northeast Pakistan towards their summer destination in the uplands of Afghanistan. Gaddai camels are the mainstay of pastoralism in this region for both transport and food. They have the ability to travel long distances and are resistant to extremes in temperature and disease. Lactating for much longer periods than sheep and goats, and better convertors than cows, make them ideal for the harsh climates.
Photography by Dr. Abdul Raziq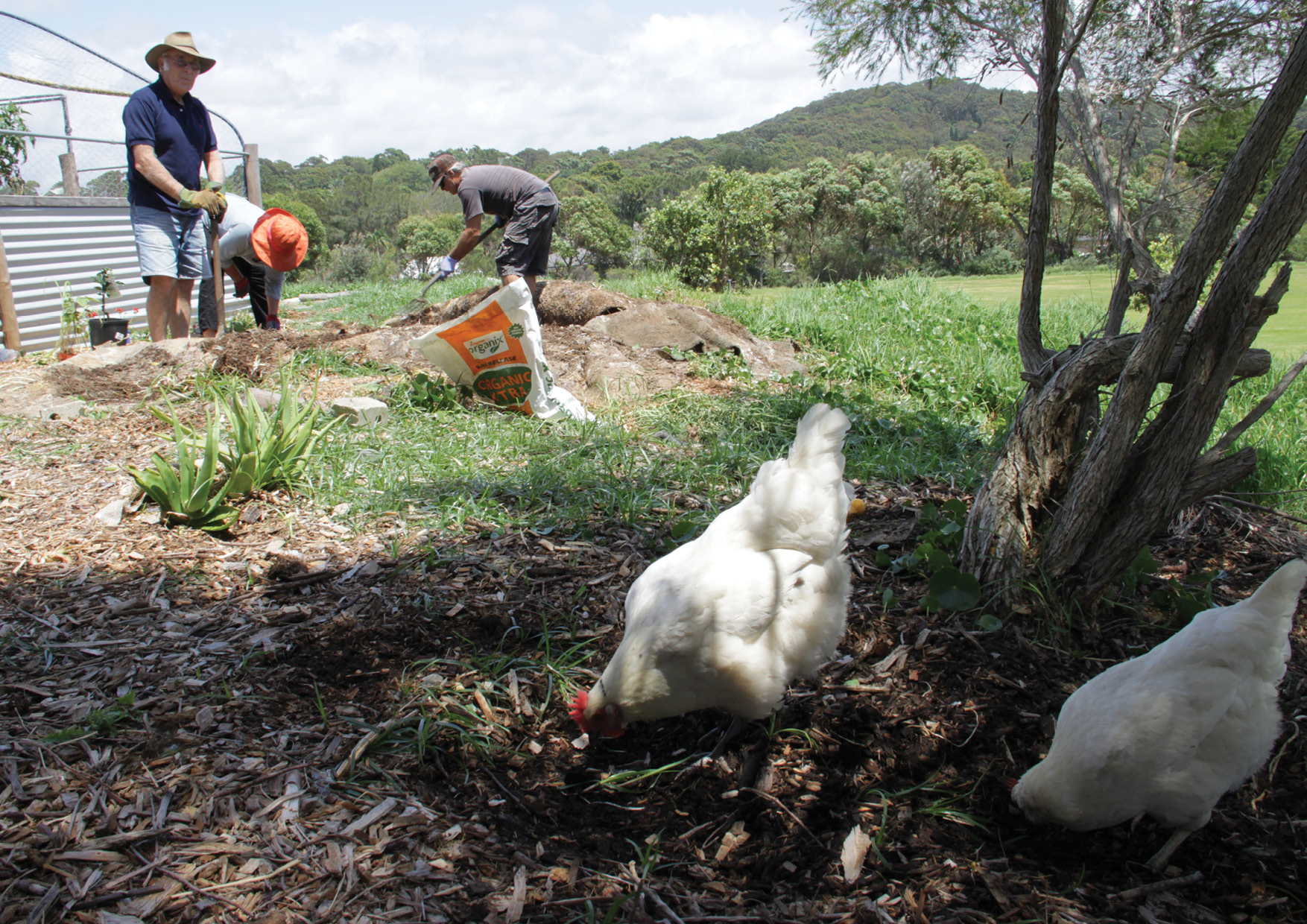 Ranging around the edges
Members of the Pittwater Community Gardens group are planting hardy perennials around the edge of their netted garden. These plants will attract beneficial insects and create a microclimate that will enhance the productivity of what is inside. The chickens are free ranging on the margins, to help control insects and weeds while close to the safety of their home. This will provide them with a more diverse diet, which saves on feed costs while providing eggs, meat and fertiliser.
Photo by Michael Courtney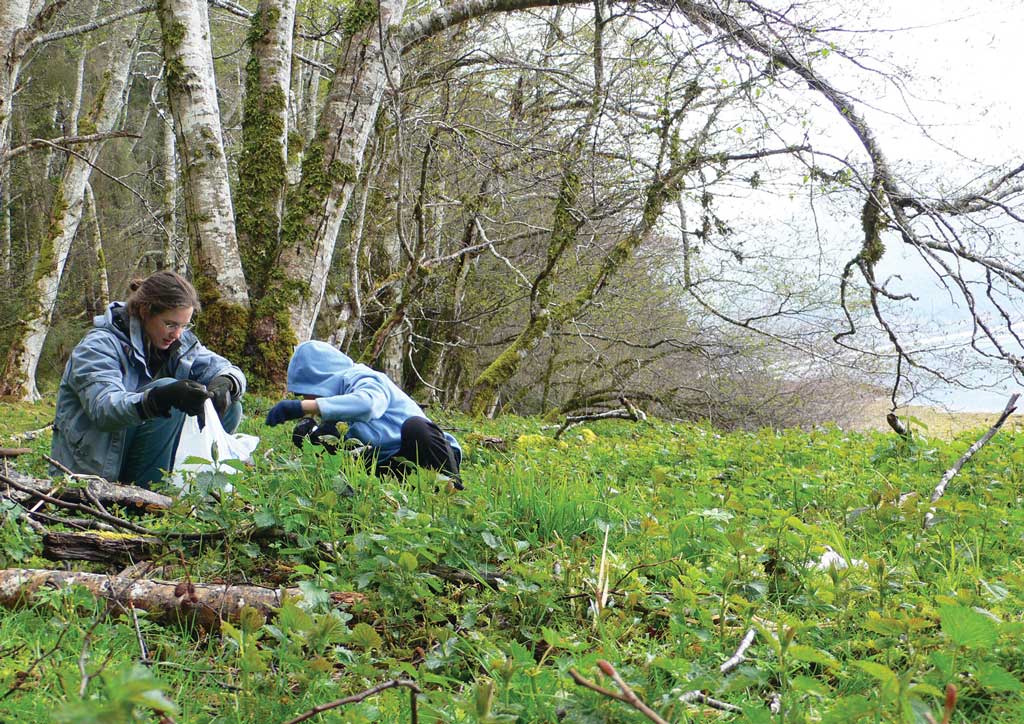 Nettle foraging
Here on the edge of the forest wild nettles abound, providing a green leafy vegetable even when other food sources are scarce. As with many wild foods nettles are rich in vitamins, nutrients, and medicinal properties for a myriad of ailments. Wild plants have been an important resource for traditional societies, and are food for the modern locavore. The Nettle Eating World Championships in Dorset remains a fairly marginal sport.
Photo and accompanying text contributed by Joel Catchlove and was taken at Maude Island Farm in Canada.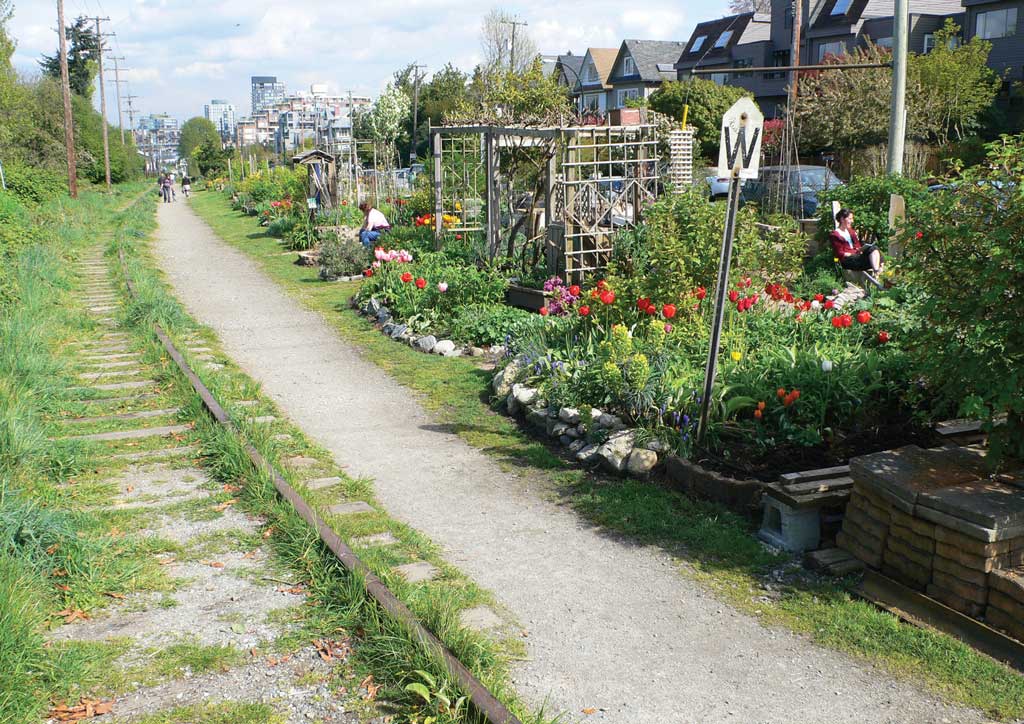 Share the edge
Over the fence from the City Farmer Compost Demonstration Garden, the Maple Community Garden spreads immaculately along a disused railway line. It is the first of a number of community food and flower gardens that follow the railway line east through Vancouver. Community gardens provide extra edge between gardeners, for sharing of ideas, methods, seeds, produce, and company.
Photo was contributed by Joel Catchlove and was taken at Maple Community Gardens in Canada.
Maintaining valuable traditions and skills
This elderly woman farmer is carrying harvested wheat using a traditional back pack in her mountain village. At these margins of Japanese society, the elderly stay fit, healthy and useful maintaining the culture and skills necessary in the energy descent future. The elderly farmers in rural Japan have extraordinary longevity and vitality. In many villages the farming, forestry, landscape and building maintenance are all done by people over 70.
Photo and caption contributed by David Holmgren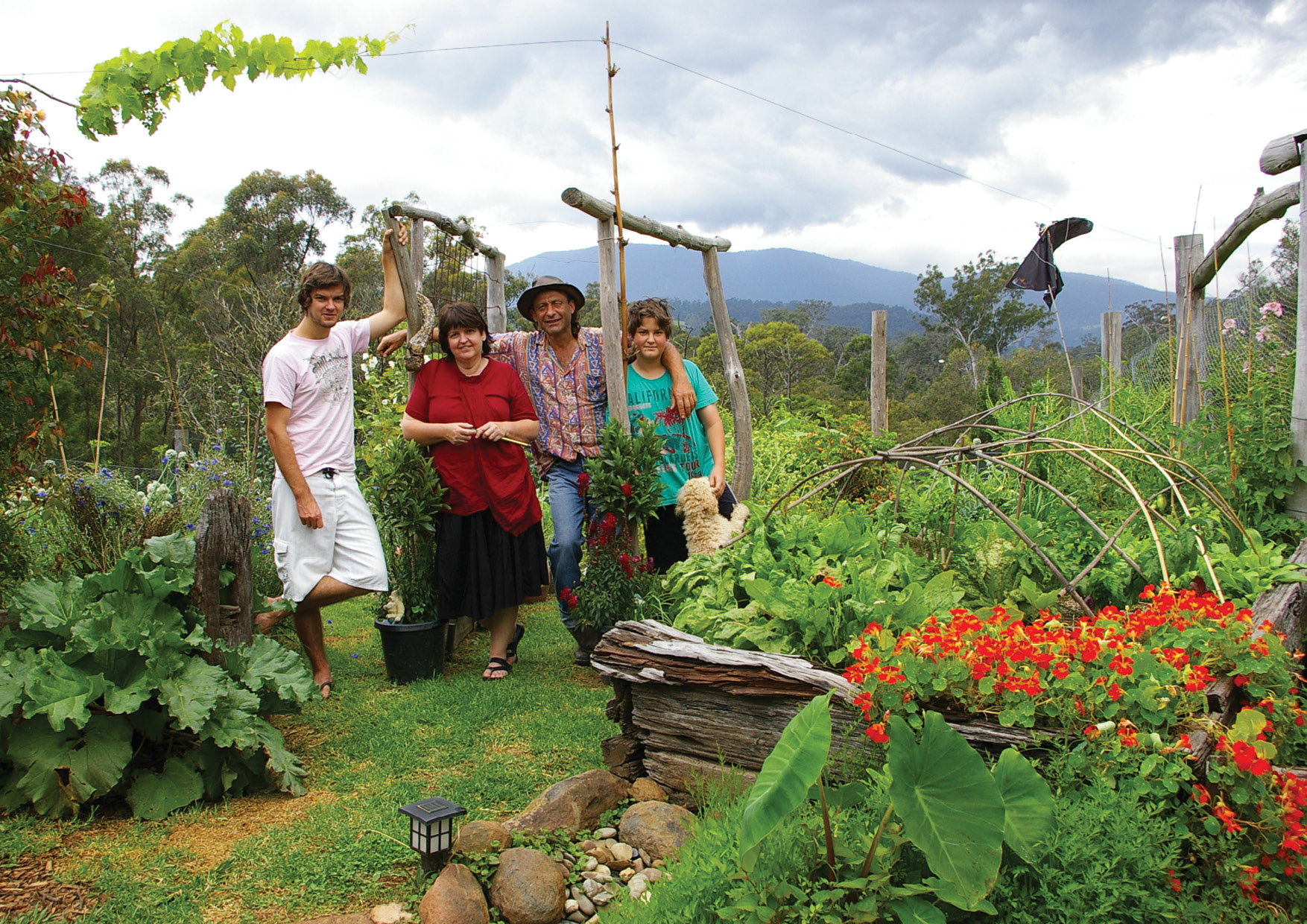 Rural re-settlers
With the sacred Aboriginal mountain of Mumbulla in the background, the Bega Valley is at the edge of adaptive change. The Champagne family are among many people in the area who have made the change from city consumers to rural producers. While the agricultural production is initially small, the production systems are usually regenerative and often innovative. These smallholder settlers have had a big impact on the social capital and social structures of the area.
Photographed at Brogo Permaculture Gardens in Australia by David Arnold