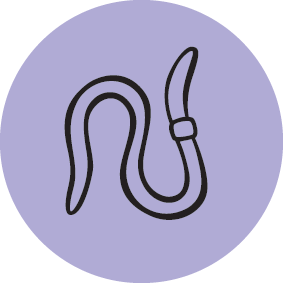 "A stitch in time saves nine"
"Waste not, want not"
By valuing and making use of all the resources that are available to us, nothing goes to waste.
The icon of the worm represents one of the most effective recyclers of organic materials, consuming plant and animal 'waste' into valuable plant food. The proverb "a stitch in time saves nine" reminds us that timely maintenance prevents waste, while "waste not, want not" reminds us that it's easy to be wasteful in times of abundance, but this waste can be a cause of hardship later.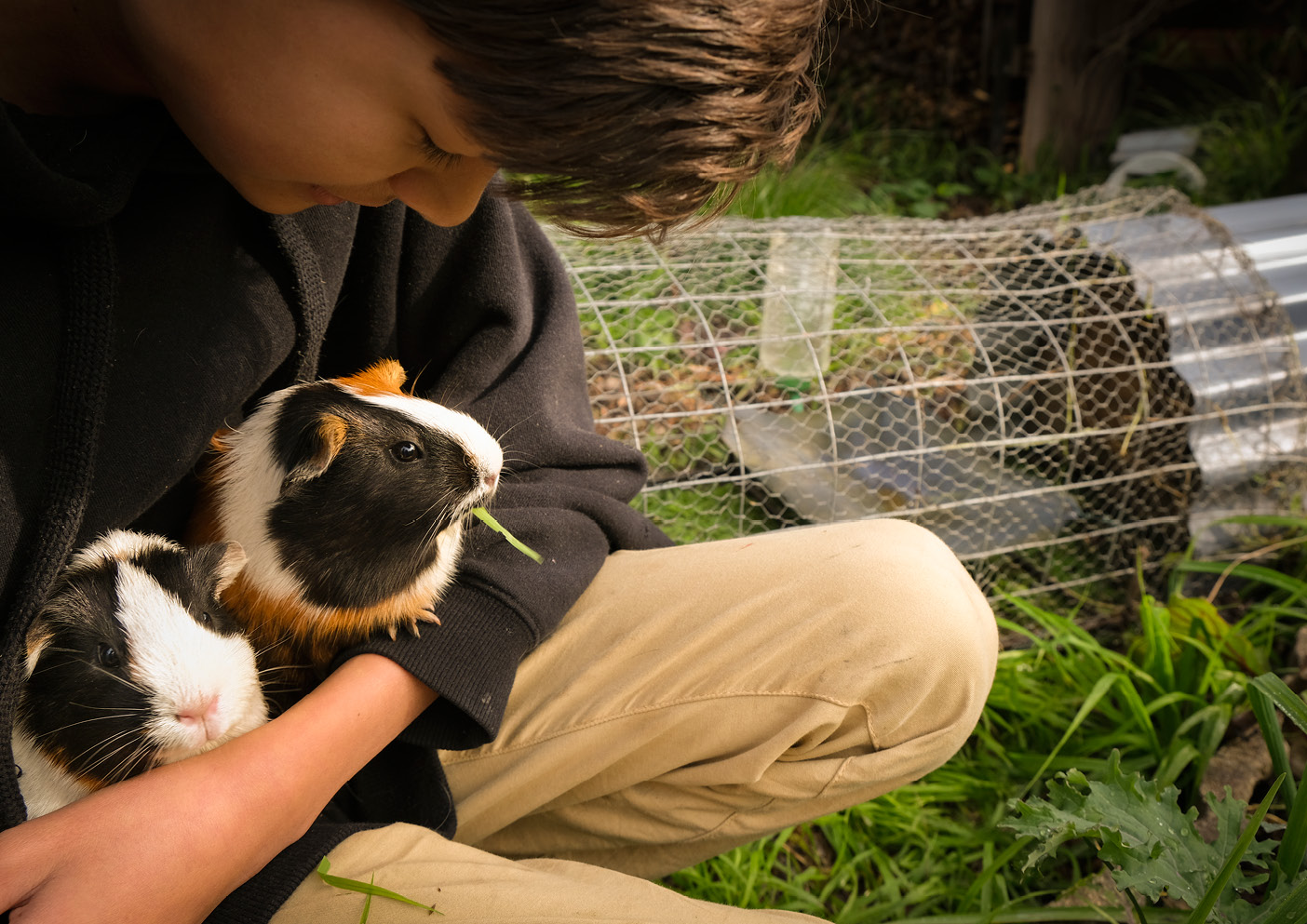 Lawnmowers to love
These guinea pigs have a great life and perform a useful function mowing small areas of grass and providing manure. They enjoy care and love from Kai, and are housed securely in a simple hutch made from scrap materials. They require no repairs, spare parts, petrol, electricity, or replacement batteries. Kai enjoys having these little pets that fit so well into the home garden.
Photo by Richard Telford, Abdallah House on Taungurung Country, Seymour, Victoria, Australia.
---
Submit your examples on Instagram #producenowaste
Nominate and submit your favourites for the next Permaculture Calendar with #permaculturecalendar
---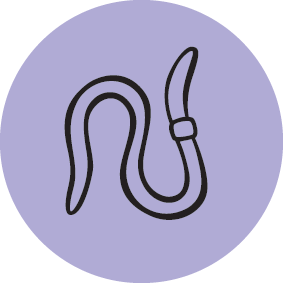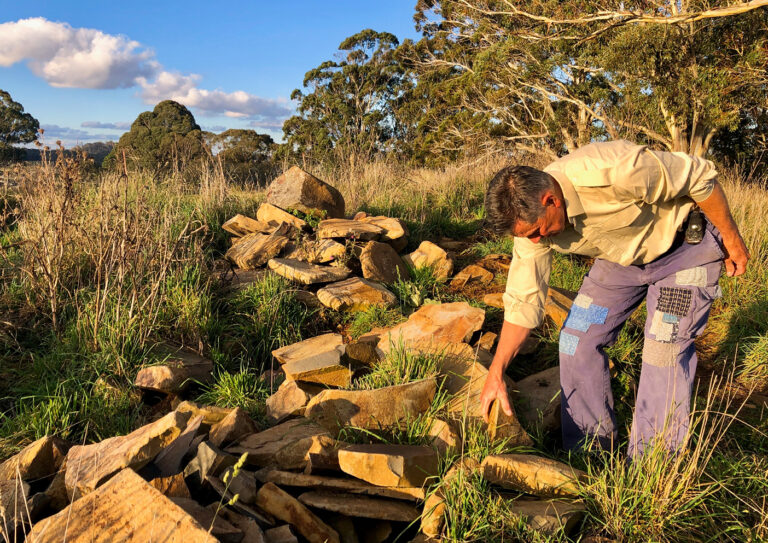 When old clothes are the best clothes
These work pants of Gerard's are at least 10 years old, 'inherited' from their son. He and Amanda like to make the most of what they have, and find joy in recycling, repurposing and re-imagining. Amanda says she is more of a mender than a sewer, and often stitches by hand without worrying about being perfect. For her, mending is a relaxing and deeply satisfying way to prolong the life and add character to comfortable old clothing.
Photo by Amanda O'Brien at 'Home Farm', Gingkin, NSW, Australia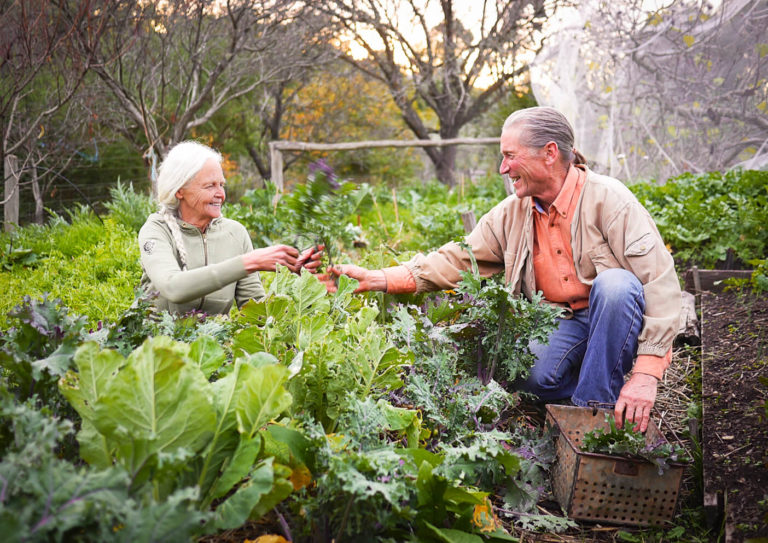 Life gets better
Su and David, as always in secondhand clothes, in a vegetable garden at Melliodora. They have lived, worked and cooperated here for 35 years, these days with two other households on the property. Most of the food for all of them has, and continues to, come from their gardens, orchards, and animals, and all wastes continue to be composted and used on-site. This compost cycle is essential to ongoing food production. Any surplus food is shared with other local households.
Photo taken by Kirsten Bradley at Melliodora in Hepburn, Victoria, Australia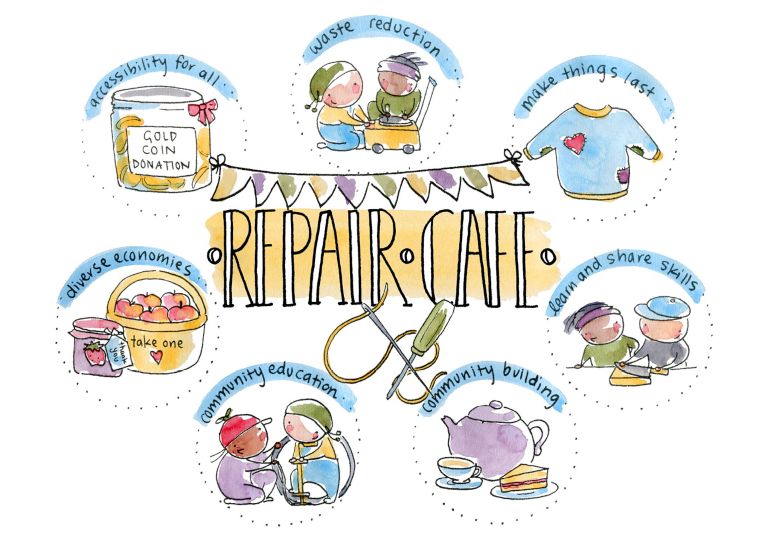 Taking care of what we have
Many of the skills that are needed to maintain and repair things have been lost, due to seemingly cheap mass produced items that are not designed to last. With regular maintenance and occasional repair we can enjoy a lifelong relationship with our loved useful items, and respect the energy and skill that created them. Repair Cafés are a place where we can learn to be more self-reliant, reduce both waste and demand for new products, and reduce our negative impact on the planet.
Illustration representing the Repair Café by Brenna Quinlan.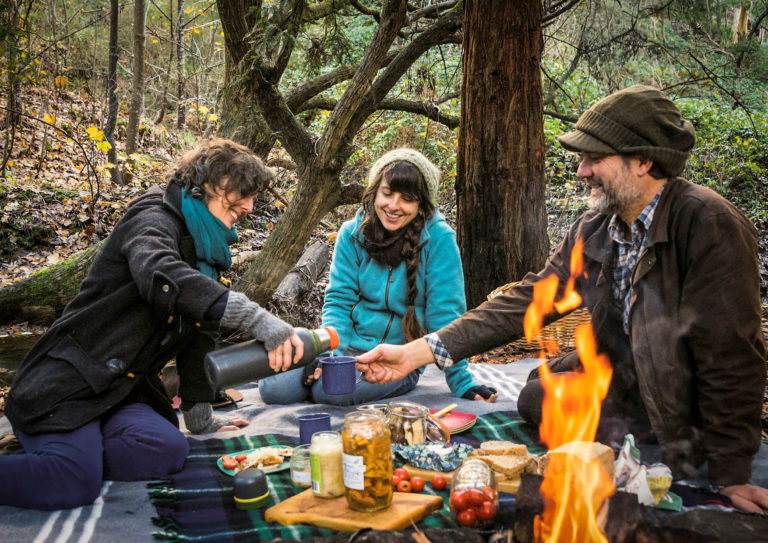 A lunch that doesn't cost the earth
Kirsten, Brenna and Nick of Milkwood enjoy a winter picnic close to where they live and work. Tea is brewed with rainwater, boiled on a toasty fire and poured from an insulated flask. Pickled mushrooms, sauerkraut, sun dried figs and late tomatoes are served directly from reused glass jars. Soft goat cheese wrapped in a beeswax cloth is accompanied by freshly baked sourdough wrapped in a tea towel. All ingredients sourced or grown locally and made by the people enjoying the meal.
Photo by Kate Berry from the book Milkwood – real skills for down to earth living. Murdoch Books 2018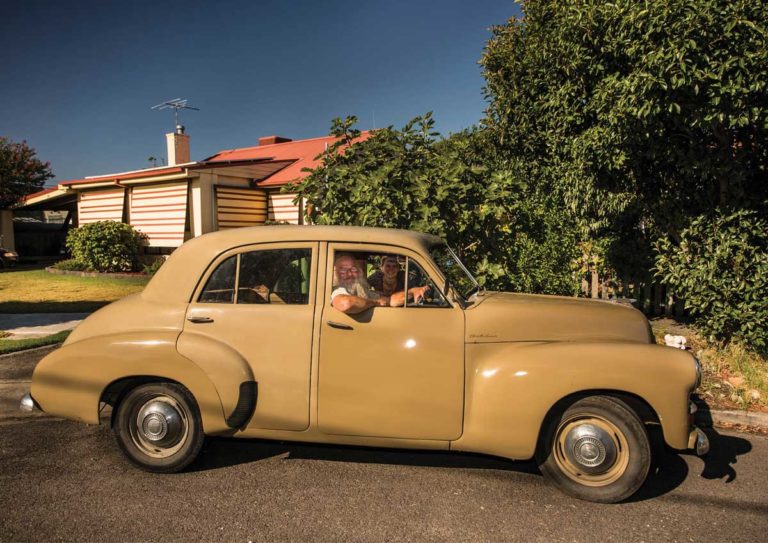 Valuing what you have
David Cameron sits proudly in his FJ Holden in front of his daughter's lush Hibi Farm property. He was handed the keys on his 18th birthday, a hand-me-down from his parents who bought it new. The value of looking after things has been passed on to his six children who grew up with the car. Regular maintenance may not be as glamorous as buying something new, but when something well made is looked after long enough it becomes highly valued. More valuable than money could buy.
Photo contributed by Oliver Holmgren and taken at Hibi Farm which features in the book RetroSuburbia.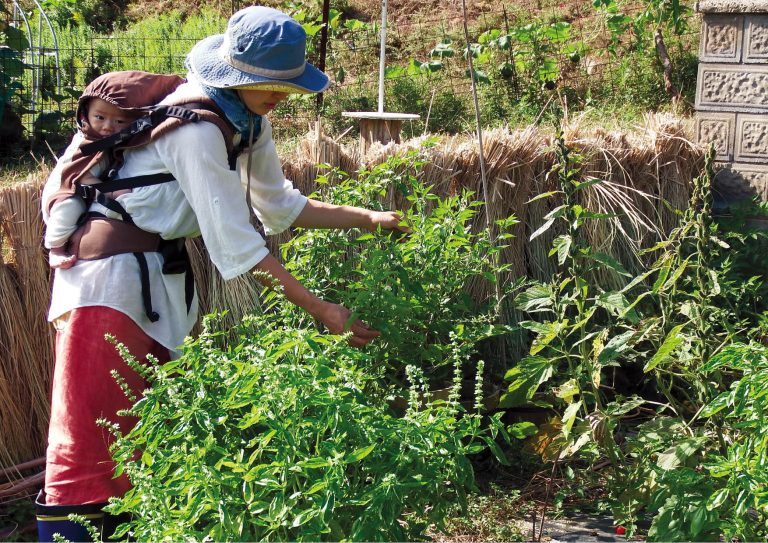 The rice straw revolution
Rice straw has often been burnt as a waste material. For Mami and her family it is a highly valued resource. Left to dry along the fence, it protects her garden from wind. Some has been braided into a rope to dry persimmons (Hoshigaki) and a traditional Shimenawa, part of a Japanese ritual for purification. Straw is used as bedding for their dog and goats, as well as a supplementary feed during winter. When the warmer weather returns it is reused as mulch for young plants.
Photo taken in Onomichi, Japan by Richard Telford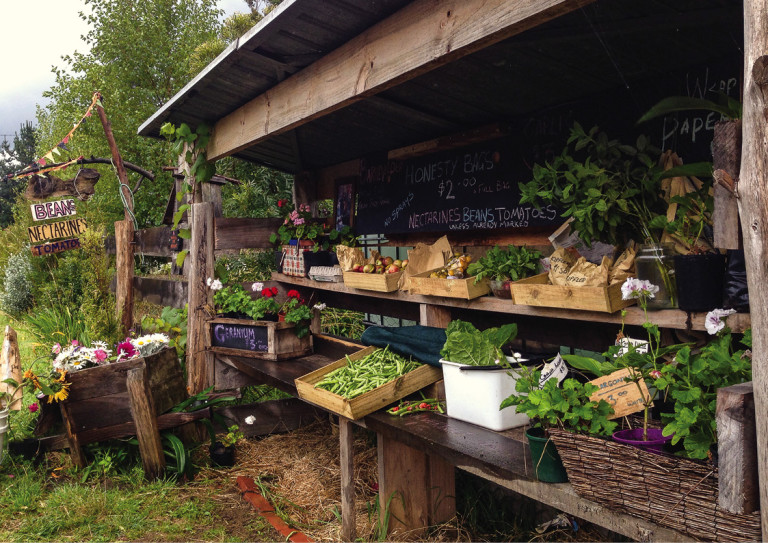 Stalled by the roadside
This attractively presented roadside stall is made with simple natural materials, mostly wood with a recycled metal roof. It gives the nearby producers an avenue to make an income without the polluting costs associated with road transportation and conventional retail premises. Paper bags, reused egg cartons and newspaper for wrapping add to the homely, welcoming feel that avoids the fancy packaging and plastics found elsewhere.
Photographed in Tasmania by Dan Smailes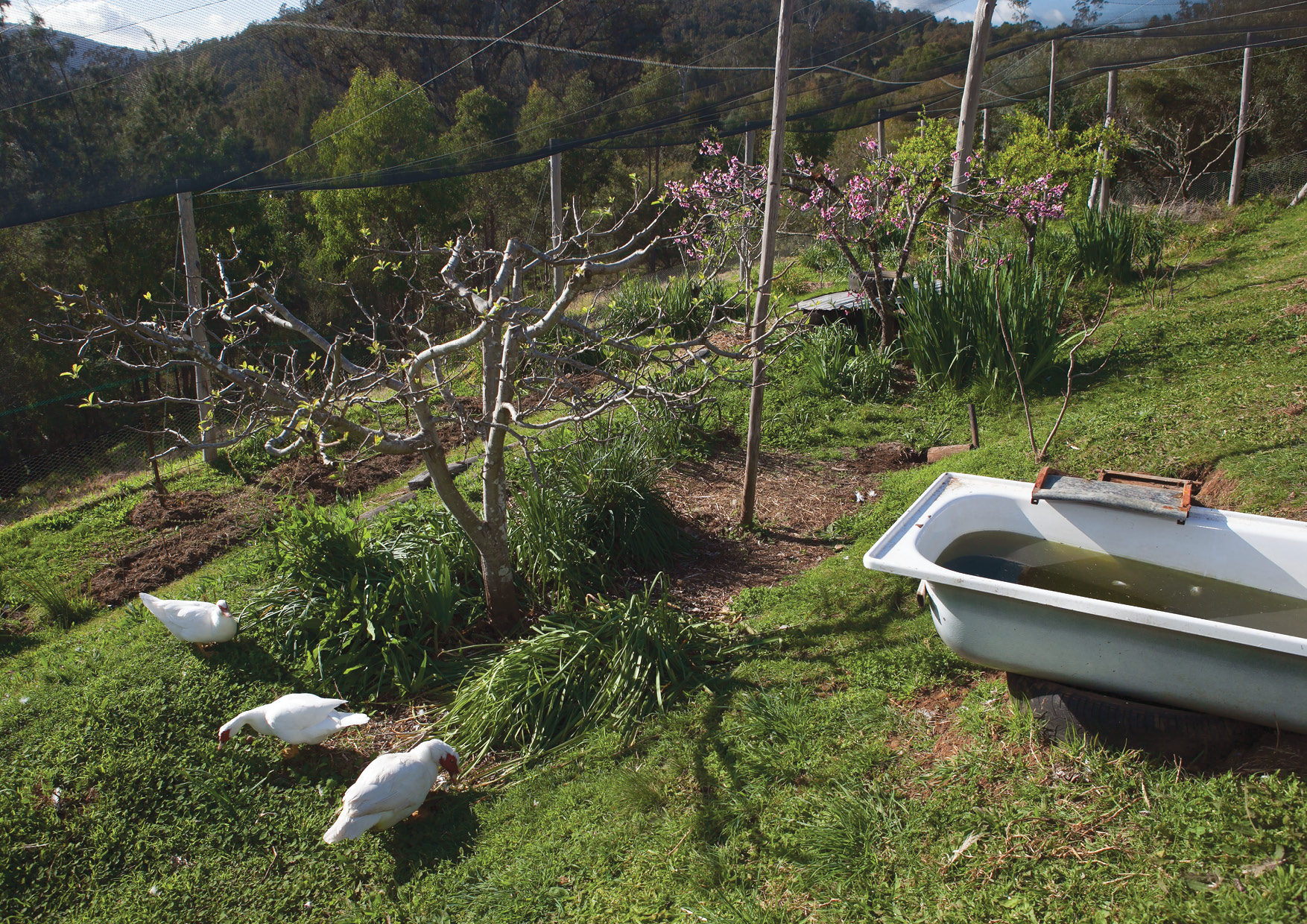 Getting more out of an orchard
John Champagne has netted these fruit trees to protect their harvest from wild birds and animals. The ducks eat snails, slugs, and grass, while their manure is absorbed into the soil. The nutrient rich water from the duck bath can be drained directly to soak into the nearby terrace, or siphoned off to a specific tree to give it a boost. The understory plants attract beneficial insects, provide food for the ducks and a living mulch to protect the soil. Outputs become valuable inputs.
Photo contributed by Robyn Rosenfeldt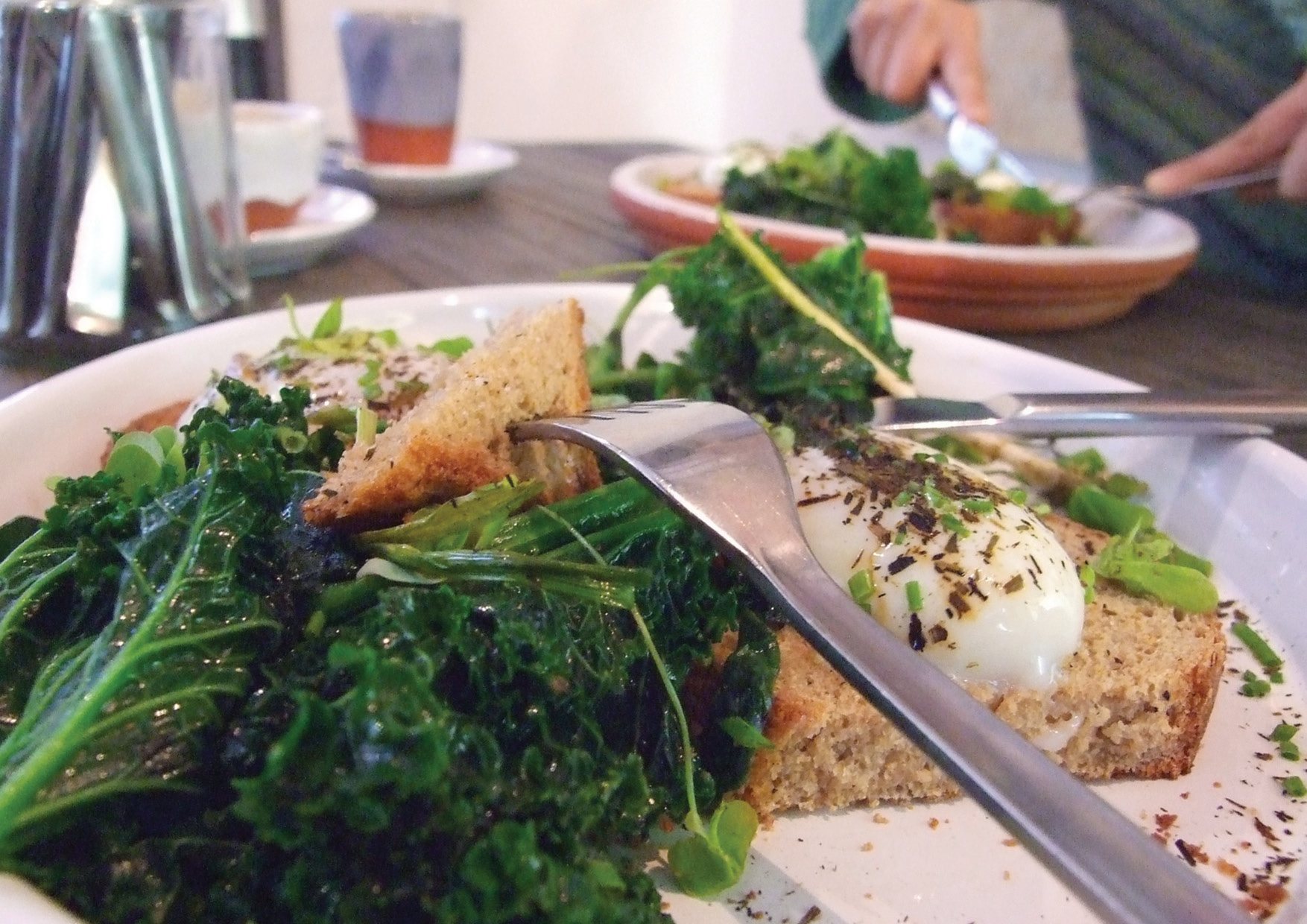 Keeping it fresh and local
A selection of lightly cooked greens, weeds and eggs on freshly milled and baked bread with churned butter – served on a locally made terracotta plate. Everything that you see, touch and taste at Silo café has had it's life cycle thought through. The milk arrives daily in stainless pails, produce is delivered in re-useable crates, local mineral water in recyclable kegs while unused organic material is dehydrated to one tenth of its volume and returned to farmers to feed their crops.
Photographed in Melbourne, Australia by Richard Telford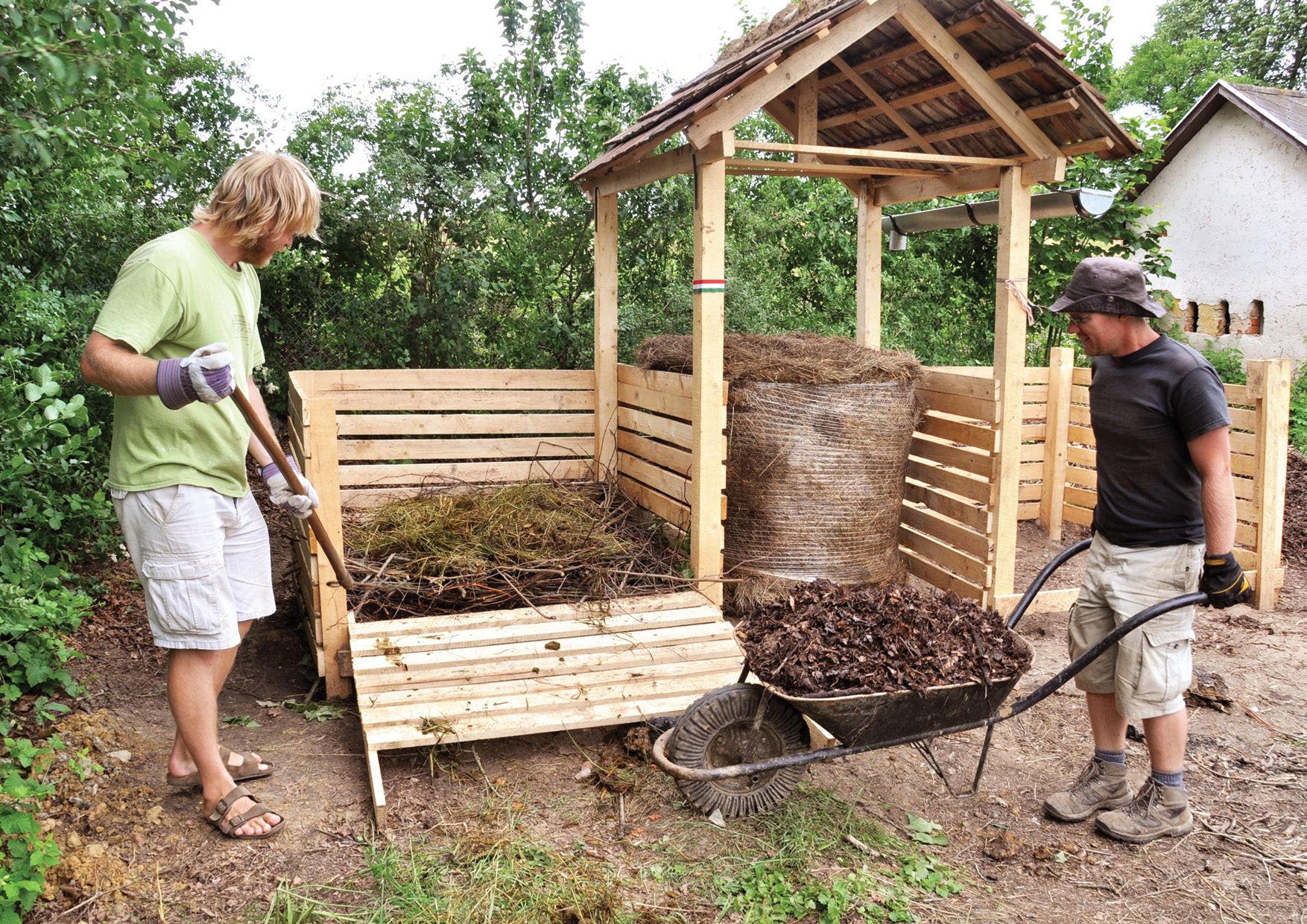 The ultimate in nutrient cycling
Gergo and David are creating a base layer for a composting system with branches, twigs, leaf mold, fresh cow manure and hay. Humanure is collected in a receptacle in the toilet and has dry organic matter added resulting in virtually no smell. The composting bay is filled over the course of a year and the process is repeated in the second bay. Once matured for a year it is suitable for use as fertiliser for fruit and nut trees, providing ingredients to repeat the process.
Photographed in Hungary by Vitalia Baranyai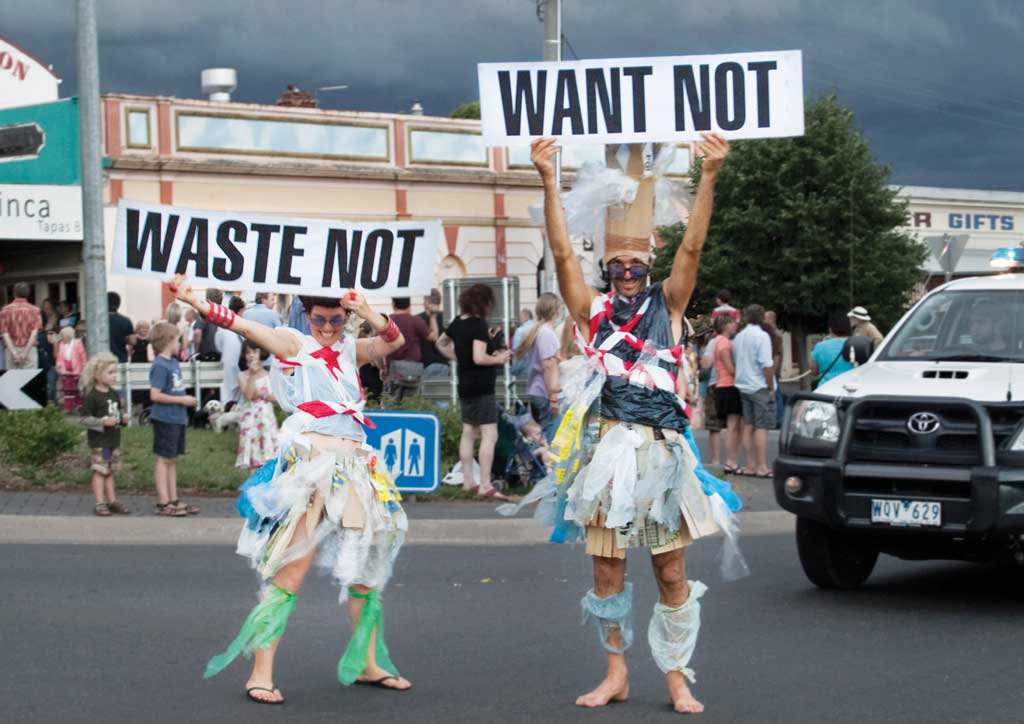 Waste Warriors
Meg and Patrick are dressed in non-biodegradable waste at the Daylesford New Year's Eve parade, holding signs displaying the common sense adage of our grandparents' generation. Plastic packaging is made from oil, a precious energy resource, is used only briefly, and generates pollution world-wide. 'Want not' warns us that we can not always expect to be so affluent. South Australia passed a State law in 2008 to become plastic bag free.
Photo taken in Daylesford, Australia by David Holmgren and features the costumes of Meg Ulman & Patrick Jones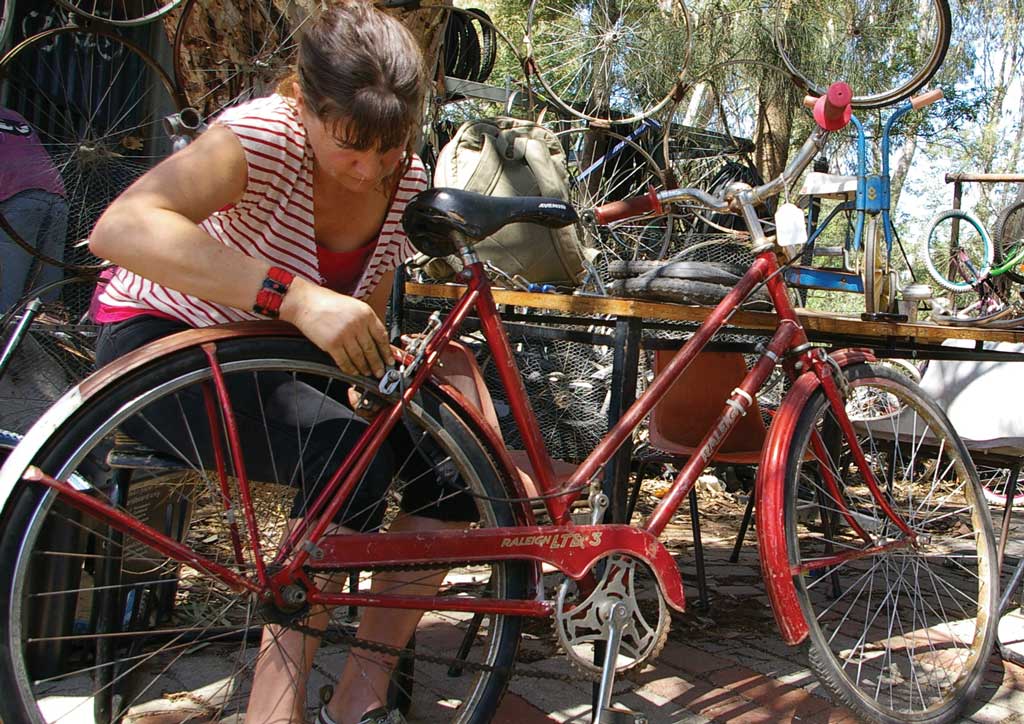 New life for an old bike
"I like this bike. I have another bike which is better for distance and speed. This will be my bike for going out in style. It needed repair and was given to The Bike Shed. I paid $35 for it, and they give me the tools, parts salvaged from other old bikes, and advice I need to fix it up." – Lari
Photo taken at CERES in Melbourne Australia and was contributed by David Arnold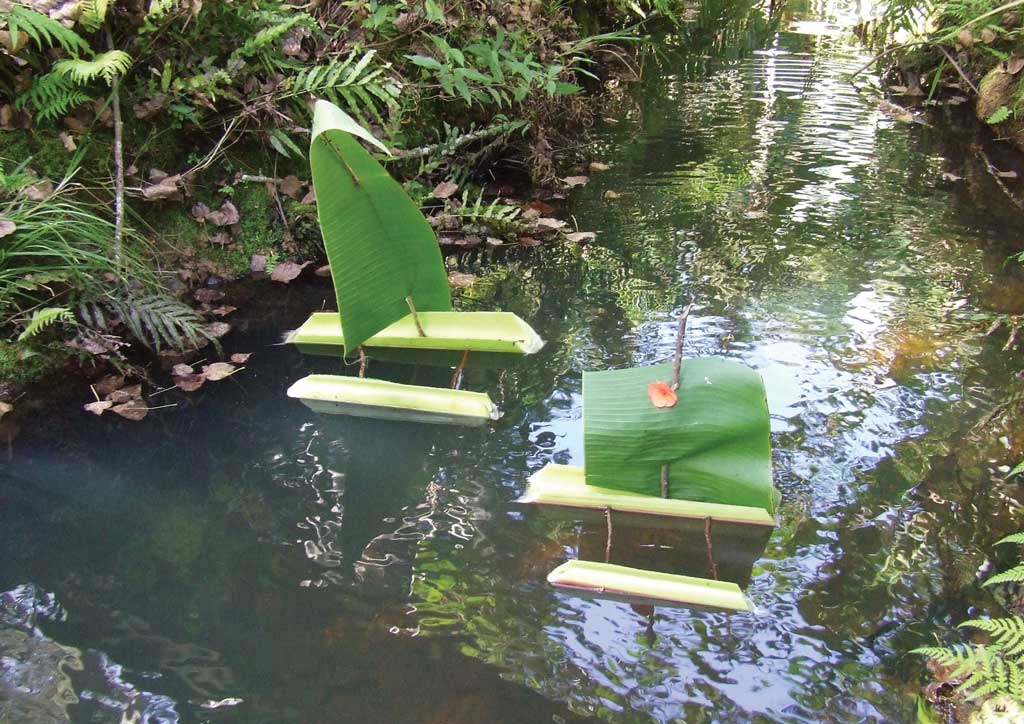 Banana Armada
Most modern toys are energy expensive, have a very brief life of little educational value, then go to landfill. High quality durable heirloom toys, timeless in their appeal, can be passed between families and through generations. These charming little boats, made from banana stems and leaves and a few twigs, can be made by children, and don't have to be looked after. They can be left to rot while the children get on with the serious business of playing.
Photo taken at Rainbow Valley Farm in New Zealand and contributed by Trish Allen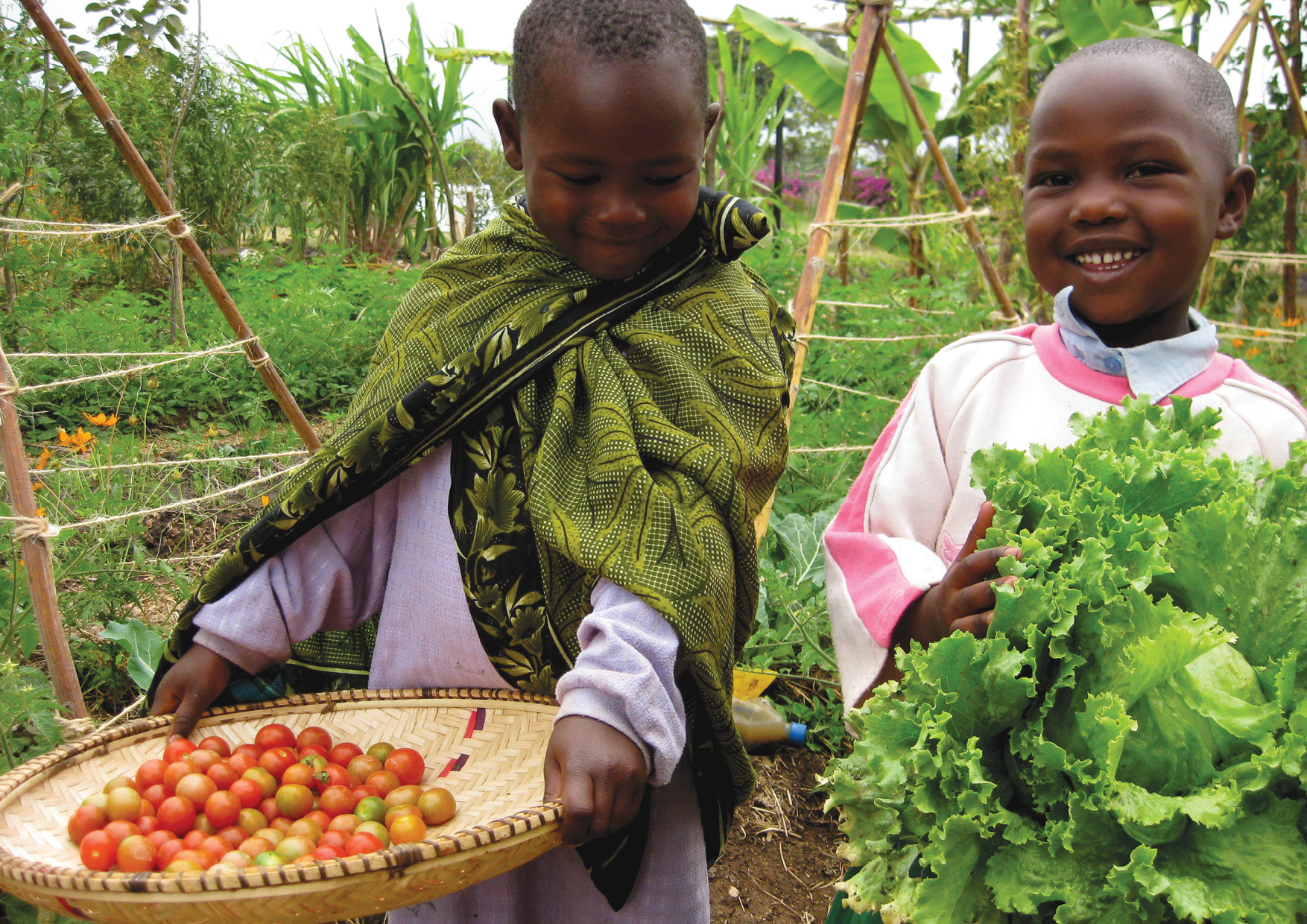 Growing food for life
Here at Kesho Leo where Nanci and Nai live, almost everything in the garden is edible and nothing is wasted. The gardens produce abundant, healthy fruit and vegetables, fodder for goats and cows, food scraps for chooks and even the structures for growing veggies and vines. Manure from farm animals is used to produce biogas for cooking, and the slurry from the biodigester in turn fertilises the garden beds ready for new crops.
Photographed in Tanzania, Africa by Eve Archbold