SideWays is an innovative open-source project, founded by Benoit Cassegrain and Hélène Legay, that brings attention to social initiatives that you probably haven't heard of. They include a 5 minute episode and interview that is crowdfunded to showcase positive and original initiatives… like this one.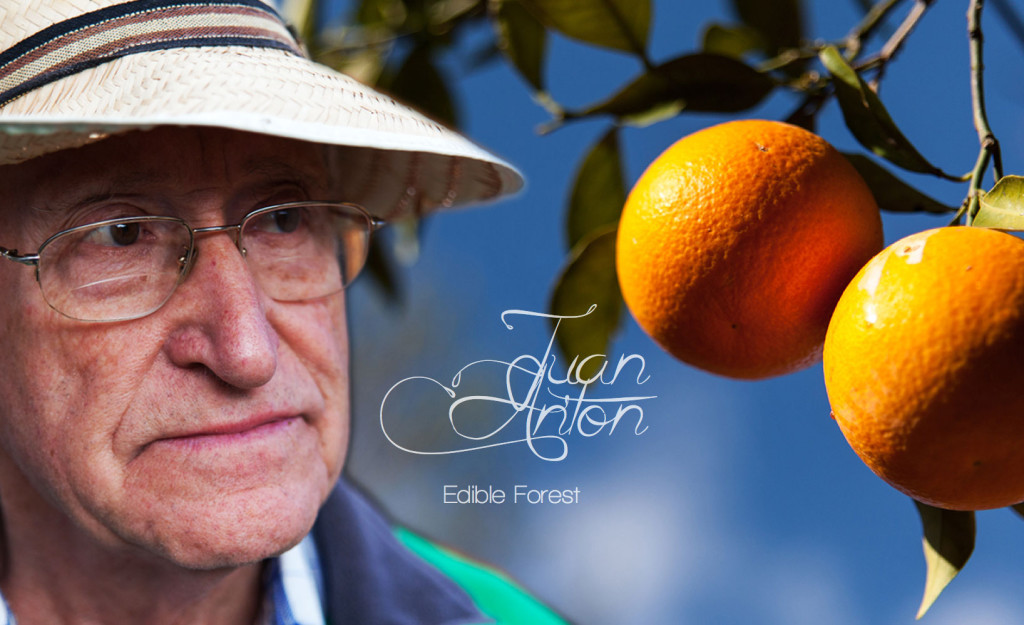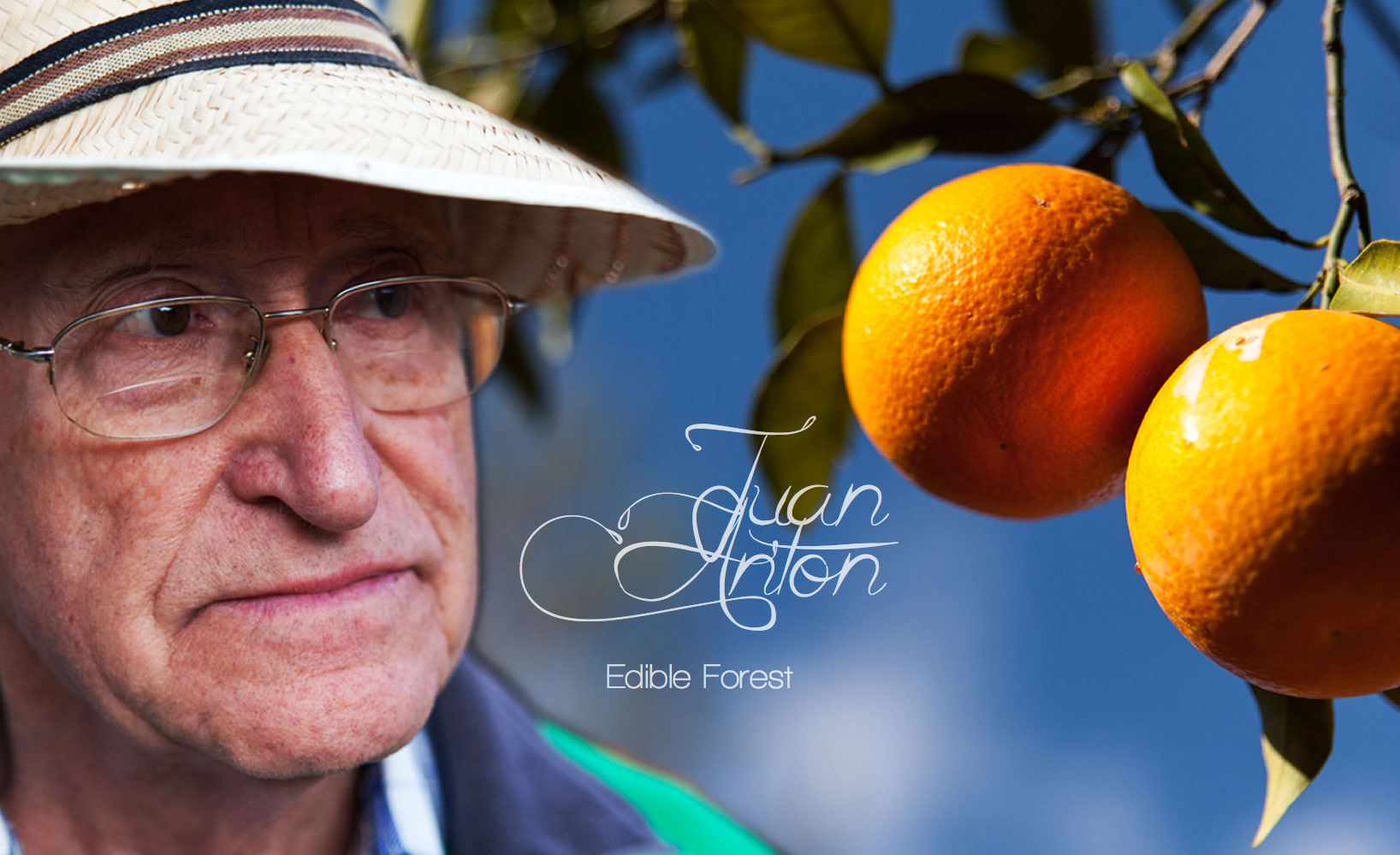 78 year old Juan Anton Mora runs 40 minutes several times a week. What is his secret? A healthy lifestyle and a wish to change the world must have played their part. Because the purpose of each of his actions is to "change the world", or to be more precise, to fight hunger in the world. No less.
30 years ago, Juan bought a small plot planted with orange trees in Alzira, Valencia in Spain. He followed advice given by the conventional styled gardener who was taking care of the field at that time… who proposed a weedkiller that would kill the grass for 8 years. Juan Anton decided to stop using chemicals and the gardener decided to quit. A few months after, the grass grew back, the trees starve. It's a disaster.
"I started to study Mother Earth's working, I've been to ecological classes and a permaculture class. I bought some Fukuoka's books. Then I started to apply what I learned." He started to put cut grass at the trees base, so it turns into compost. It has taken a few month for the trees to grow again, after the microorganisms killed by chemicals came back and life returned to the soil.
Juan planted new trees: bananas, walnuts, almonds, figs, olives, peaches and many others. He created his edible forest guided by permaculture principles. Its goal is to have the best productivity with the minimum of work. Today, the bulk of the work is to recover production.
When leaves fall, microorganisms eat them and turn them into tree food. It's as simple as that. It's natural and there is nothing to add.
Juan Anton's forest proves it: the trees are healthy and the fruits are delicious. Some simple principles explain this success, for instance about orange trees diseases: "These orange trees are healthy only because the ground is healthy. Chemicals fertilizer make the sap sweet, which increase the risk of disease."
Today, Juan is looking to find an easy way to produce vegetables all year long. He builds homemade greenhouses with local materials, like bamboo, old fridge, picked up branches. The wall inside the main greenhouse was built with stones from the surrounding forest. He uses it to catch the warmth during the day and give it back during the night so the plants won't freeze during winter.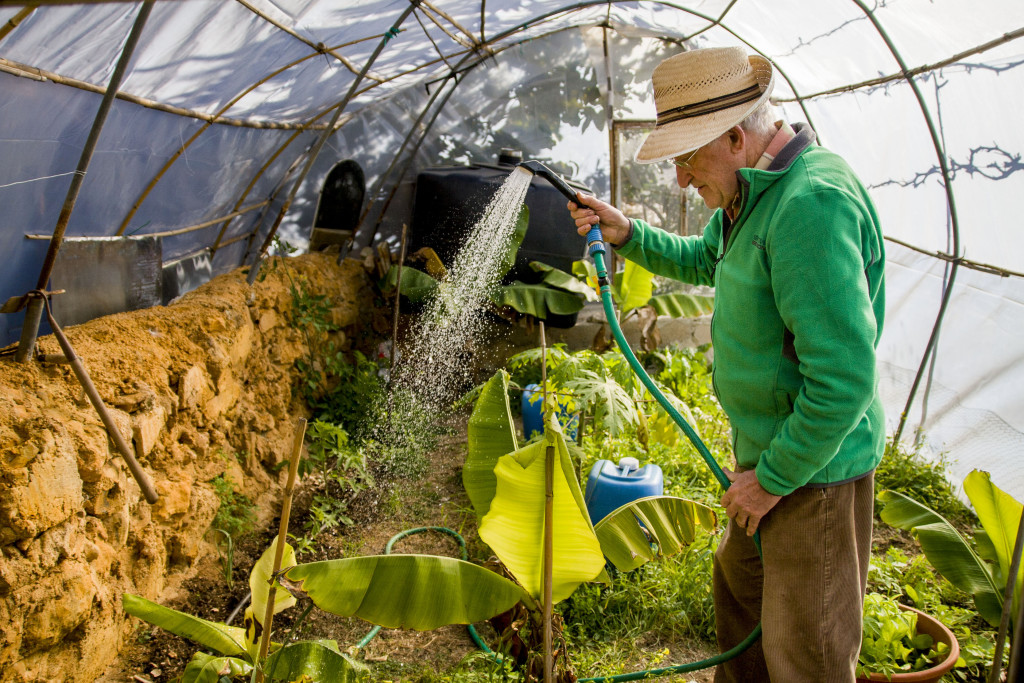 Dependence is slavery
We depend on stores to feed ourselves, so we depend on money, and as a consequence we depend on a wage-earning work or social aids given by the State. However today, there is more and more unemployment and people who struggle to find a job. Thus, how can you eat if you can't rely on social aids? Everyone needs to eat, and as the food comes from earth, let's grow our own food ourselves!
"Society should be based on two cornerstones: 'work' (our contribution to society), and production of its food. This way, no matter what happens, if we don't have a job anymore, we always have something to eat. As long as we depend on a salaried job, our safety will be really fragile."
And it's not just words. Juan Anton applies his advice to his own life and even go further: he tries out every possible ways to make the soil work easier. Gaining food self-reliance is not only safe, it's also a way to obtain some kind of liberty in this society into which we don't have the choice anymore.
When you're in a bakery and the baker can't tell where his flour comes from, when the market is under the transgenic industry control, and when you can't choose what you want, it is a dictatorship. When you vote for people who spend their time lying and acting the opposite of their speech/words. It is a dictatorship. We have to find a way to do things on our own. We have to learn how to grow food, how to produce healthy food, how to sell it ourselves
According to Juan Anton, everyone can create an edible forest. "All you need is an area to begin planting. You have to choose trees adapted to the climate, those which grow around naturally and enable nature to work on its own, without the help of the human hand. All in all, this does not require an extensive knowledge of plants; all you need is the will to do it."
And to facilitate the implementation by others, he invites anyone to come and see the benefits of his work. Everyone is welcomed to come and see his edible forest and to learn from it. "The forest is like a book which does not use letters but another kind of language. You only need to look at it to understand and remember it until the end of its life. Coming to see the forest is far more instructive than any other speaking words."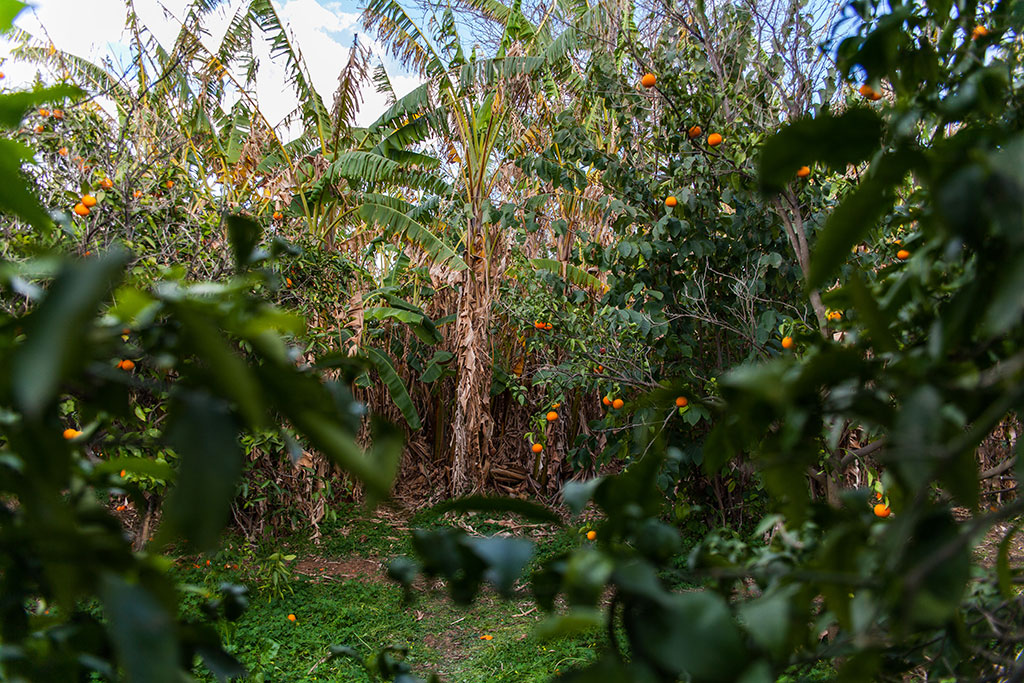 Working together to find solutions
Juan Anton also organizes meetings with dozens of people interested in food self-sufficiency or more generally speaking, anyone who wish to emancipate themselves from the dictate of our society. The objective is to share knowledge, and they can last several days. The meetings will soon widen to all kind of know how like learning how to plant, how to make oil, bread, marmalade and soap, all simple but basic things necessary to our independence.
Beyond that, Juan considers agriculture basic knowledge should be part of academic programs. Indeed, everyone should be able to plant trees and plants in order to meet its basic needs. The idea isn't for us to become all farmers, but only to get few knowledge (like learning how to drive for example), in order not to ask others to feed us, not to wait on the street for people to give something.
Juan is also thinking about techniques for people who live in the cities. It is already possible to grow vegetables in trays, but he wants to go further by establishing more sustainable actions. He tosses the idea of growing fruit trees wherever a piece of land is available, without asking for anything from anyone.
"As long as humans are in need of food to survive and don't have the means to get it, streets, parks, and public spaces which ain't furnished with fruit trees will remain an offense to all those who don't have the means to live!"
Benoit Cassegrain and Hélène Legay of SideWays
side-ways.net
---
2016 Permaculture Calendar
This year featuring none other than Juan Anton on the cover! There's a new set of intriguing images to illustrate the 12 design principles, and a rain / temperature chart to help you keep track of local weather patterns. We've also now got quarter moon icons for both northern and southern hemispheres.
As previously, the calendar is made from 100% post consumer recycled pulp on certified carbon neutral paper that is manufactured and printed in Australia using 100% renewable energy. And net proceeds are tithed to Permafund, supporting permaculture projects internationally. Check it out.