Twelve new permaculture images now illustrate the design principles on the website, you might recognise them from our calendar. Each year a new collection of images that captures exciting projects from around the world is added to the website and features in the permaculture calendar.
As a premiere destination for people wanting to learn about the foundations and building blocks of permaculture, this website is a great way to expose the work of more experienced practitioners. It doesn't cost anything to feature on the site, but a good eye and camera are required. So if you've taken a photo that is both beautiful and tells a story about permaculture, consider submitting it to help build a better resource to inspire both the current and next generation of permies.
Each image that you submit needs to illustrate at least one of the 12 design principles from the website with text that helps to expand our understanding of the principles from their application in different situations. If your image is selected as the cover for the Permaculture Calendar you'll receive twelve copies gratis, a further eleven selections will receive four copies along with links and credits – a small token of thanks for successful contributions.
For inspiration, check out the collection of all images from previous calendars on each of the design principle pages.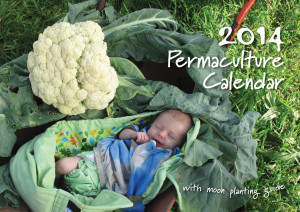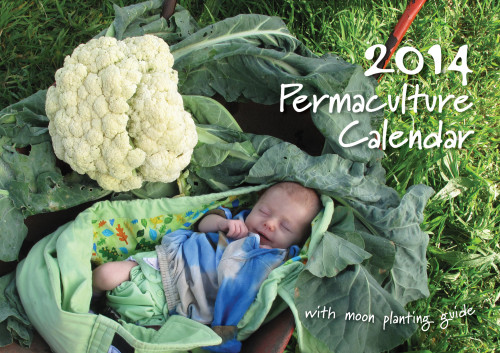 Okay, I'm interested. What next?
Why not submit a selection of thumbnail images or point me to your online photo library? It's important that you are, or have permission from, the photographer in order to make a submission. If suitable photo/s are found I will require a few paragraphs about them so that I can see how they relate to the design principles. If people are clearly recognisable in the photo, and your image is selected, then you could be asked for permission from the people concerned for the image to be used.
Tip: I love photos with people and/or animals in them. Selected photos will be used in landscape format and must be supplied as high resolution jpeg files (around 3000 x 4000 pixels), in order to be printed at over A4 size. Email your submissions to [email protected] 
Embodying the permaculture ethics by design
The Permaculture Calendar is made from 100% post-consumer recycled Australian made paper which is certified carbon neutral and supports the restoration of landfill sites around Australia. Manufactured and printed using 100% renewables, with printing plates and paper waste recycled. Inks are vegetable based so don't release unnecessary Volatile Organic Compounds (VOC's) into the atmosphere or require harmful solvents for clean up.
The paper weight and size of the calendar were calculated to take advantage of standardised postage and reduced freight. The calendar was printed less than 100km from where it is being distributed in Australia. Sales from the website are posted directly from the initial drop off point to the customer.
We also tithe 10% of the net return from sale of all products from this website to Permafund – supporting permaculture project internationally.
Richard Telford