Description
2017 Permaculture Calendar
Internationally relevant and filled with inspirational and thought provoking images that support and reinforce your values every day of the year. Learn each of the 12 design principles over the course of a month and be reminded of suitable garden activities with daily icons and phase times according to our moon planting guide.
Now with a rainfall / temperature chart and moon icon for northern and southern hemispheres.
---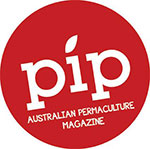 Pip Magazine
Pip is a place for people and groups to connect and share ideas, knowledge and experience and stay in touch with what is happening around Australia. Attractively designed, thoughtfully laid out and clearly explained, Pip presents permaculture in an easy to understand accessible way. With informative articles on various aspects of permaculture as well as profiles on people, projects, gardens, farms, houses and businesses. Each article includes a permaculture principle icon that is most relevant to the story.
Printed in colour in Australia on 100% recycled paper, A4 (210 x 297mm)
---
Issue Seven – Autumn 2017
96 pages. The Chook Issue. FEATURING A tribute to Bill Mollison, Backyard chicken health, Chook guide, Raising meat birds, Backyard poultry breeding. Also: Rare Trades, Growing garlic, Natural dying, Fair Harvest Permaculture, Abdallah House, Pickling the Harvest, Vegan Permaculture, Electric Cars, Nukazuke and Natural Learning, all the regulars + heaps more. Preview Pip Mag #7
Issue Six – Autumn 2017
96 pages. The Home Issue – This issue we delve into the heart of Melliodora, David Holmgren's domestic-scale permaculture demonstration site (and home), learn the ins and outs of alternative technology and take a peek into some inspiring permaculture homes around the country, with an in depth look at how they were designed and built. Also FEATURING articles on tiny house living, natural building, the art of frugal hedonism, rocket stoves, slow fashion as well as garden succession planning made easy. PROFILE on permaculture pioneer Phil Gall and heaps more. Preview Pip Mag #6.
---
Issue Five – Autumn 2016
94 pages. Fair Food Issue – FEATURING: Fair Food: Time For A Change by Nick Rose, Putting The 'Culture' Back Into Agriculture by Robert Pekin with Emma-Kate Rose, Food That Connects by Tammi Jonas, Ten Ways To Create A Fairer Food System, Folk Creating A Fair Food Future by Kate Raymond, Jennifer Richards and Sharon Lee, Retrosuburbia: A Downshifter's Guide To A Resilient Future By David Holmgren, From Degraded Land To Abundance: Bethel Business and Community Development Centre, Lesotho By Frances Howe PROFILES: Borja Valls, Rob Scott, Taj Scicluna, Cara Edwards and Su Dennett and a heap more… Preview Pip Mag #5.
---
Issue Four – Spring 2015
94 pages. FEATURING: Life with Bees, Native Bees in the Permaculture Garden, A look inside a hive, Artist as Family (The art of permaculture travel), Permaculture Timor Leste and a Tropical Permaculture Guidebook. ALSO: Save our Soils by Geoff Lawton, Merri Bee Organic Pharmacy by Ross Mars, Perennial Abundance by Morag Gamble, Earthbag Building by Ella McHenry, Towards a Permaculture Diet by Ian Lillington, A story on Jeff Nugent, Permaculture Design Process by Hannah Maloney and heap more… Preview Pip Mag #4.
---
Issue Three – Autumn 2015
80 pages. FEATURING: The Age of Food: Healthy, Sustainable Sufficient, Constructing Swales, Bamboo in Permaculture, Permafund. PROFILES: Dr. Vandana Shiva, Hugh Gravestein, Shanaka Fernando, Nat Wiseman, Claudia Echeverria, Fraser Bailey. ALSO: The many roles of fungi, Turning no-dig gardening on it's head, House of cupboards, Compost-powered shower, Fermenting for health, Homemade cheeses, Holistic management for life, Natural farming in the family, Declutter your life, DIY natural body products, Green Connect: Nourishing the Community, Permablitz the gong and much more… Preview Pip Mag #3.
---
Issue Two – Spring 2014
80 pages The permaculture power of big machines, Meaningful change, Waterless composting toilets, Articulating clear design goals, Creating gardens with refugees, The 'forgotten island'. PROFILES: Aaron Sorenson, Karen Lott, Madelaine Scott, Tabitha Bilaniwskyi-Zarins, Nadja Osterstock. ALSO: Grow your own meat, Green manures, No debt housing, Reducing waste café style, How to make chorizo, The ethics and heart of social enterprise, Parenting the permaculture way, Local produce swaps and much more… Preview Pip Mag #2.
---
Issue One – Autumn 2014 (Available as a download only)
80 pages Food Security. The permaculture story. Starting a food forest. Grow you own shiitake mushrooms. Locavore for a month. Wild weaving. Herbal first Aid. Deep ecology. Swapsies. Greenhouse living. Natural dyes. PROFILES: Adam Grubb, Pamela Forward, Robert Pekin, Richard Telford, Robyn Clayfield and Hannah Moloney.
---
If you are downloading a file make sure you do so at your desktop computer and not a mobile device, ensuring that you give the file ample time to download before attempting to open the file. If you have any questions or experience any problems with your download purchase on your
first attempt
read our
Frequently Asked Questions
before contacting us.