"Don't think you are on the right track just because it's a well-beaten path"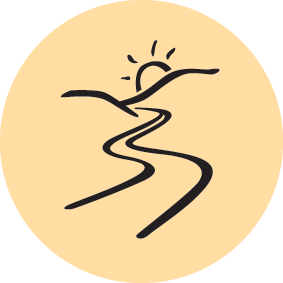 The interface between things is where the most interesting events take place. These are often the most valuable, diverse and productive elements in the system.
The icon of the sun coming over the horizon with a river in the foreground shows us a world composed of edges. The proverb "don't think you are on the right track just because its a well-beaten path" reminds us that the most popular is not necessarily the best approach.

---
Pollinator books
Erin and Marcel are treasure hunters. They find second hand books that they value, pollinating thoughts and ideas from great story-tellers to a new audience. From social & environmental justice, biographies about people that have made change happen, to the esoteric and classics that alter the way people see the world and themselves in it. You'll find them popping up their shop with suitcase loads of books at festivals, markets and gigs or on the way to the beach.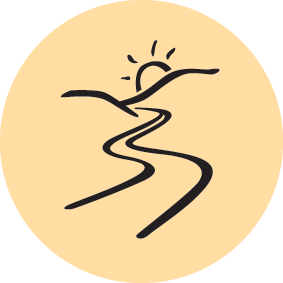 Principle 11: Use edges & value the marginal